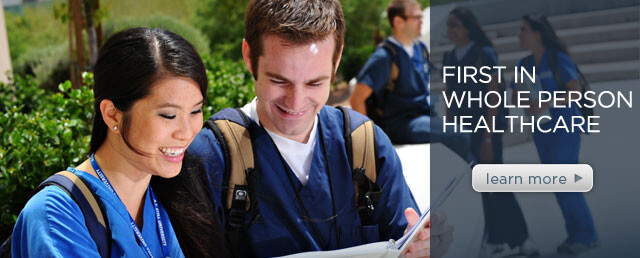 Program Review
The purpose of ATSU program review is to improve student learning through academic program assessment. The internal review process provides systematic evidence of a program's effectiveness with respect to the discipline and policy and assures consistency with the University's mission. Broad and comprehensive program review identifies strengths as well as needs and shapes future program priorities. Program review results and recommendations guide resource allocation and decision-making at the University level.
Program review goals:
Assure high-quality, professional programs are provided for students;
Identify opportunities for improvement in each program;
Assist program with plans to implement changes to improve student learning; and
Archive programmatic changes at the University level.
All University programs undergo program review on a regular cycle. Programs undergoing regular, professional accreditation review by discipline-specific external agencies engage in a streamlined internal review process corresponding to the external accreditation schedule. Programs without discipline-specific accreditation undergo internal review on a six to eight year cycle.​ For more information, please visit the accreditation web page.
Process

+

Program review process, in short:

The Office of Assessment and Accreditation (OAA) is responsible for initiating and facilitating the program review process. The University-wide Assessment Committee – Academics subcommittee (UWAC-A) is responsible for reviewing program self-studies and supporting documentation as well as discipline accreditation results. UWAC-A then evaluates and makes recommendations to the University-wide Assessment Committee (UWAC). In the program review process, all communication to a college, school, or program from OAA, UWAC-A, UWAC, and/or the senior vice president-academic affairs (SVPAA) is in writing and is always addressed to the responsible dean. Additionally, OAA archives every step of program review process, including communication and meeting minutes.

Program review steps:

OAA notifies program and schedules orientation meeting;
Program completes the program review template using the accreditation self-study and resulting documentation;
UWAC-A reviews the narrative in the template then writes a summary report;
Program responds to UWAC-A summary report;
SVPAA assesses UWAC-A summary report, program response, and action plan then provides written commentary;
UWAC reviews summary report, program response, action plan, and SVPAA commentary;
UWAC assigns follow-up schedule based on action plan timeline;
OAA archives all reports and documentation.

Note: For a more in-depth look into ATSU's orientation documents or assessment software, or for other questions regarding the program review process, please email OAA at oaa@atsu.edu.
Process Timeline

+

| Deadline | Unit responsible | Action |
| --- | --- | --- |
| Two years prior to program review | OAA | Notifies program of review date and schedules orientation to process. |
| From time of notification until review date | Program | Conducts review and writes self-study. |
| On due date | Program | Forwards completed self-study to OAA. |
| Two weeks from receipt of self-study report | OAA | Checks for completeness of content and forwards to UWAC-A. |
| Six weeks after receiving from OAA | UWAC-A | Reviews documents and creates a summary report, which is sent back to program. |
| Four weeks after receipt from program | SVPAA | Reviews, resolves any conflict, writes commentary, and sends completed package to UWAC for review. |
| As appropriate | UWAC | Reviews all documents and forwards priorities to leadership as needed. |
| As appropriate | UWAC | Creates follow-up schedule for program. |
| As appropriate | OAA | Checks completeness and archives all documents. |