ATSU celebrates innovative healthcare education: ATSU-SOMA
Posted: January 12, 2023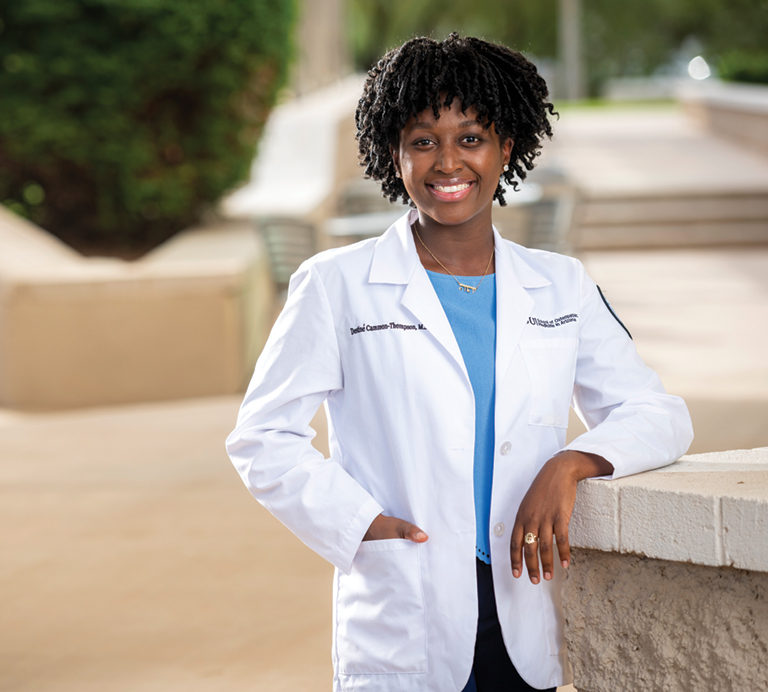 Still Magazine celebrates the University's 130th anniversary by recognizing the influence ATSU has made in healthcare and healthcare education. The concept of whole person healthcare may have seemed radical in 1892, but ATSU's founder, A.T. Still, DO, knew it was the best approach for patient care. His pioneering ideas were met with skepticism and resistance, but he remained steadfast in his beliefs. And today, his movement continues to grow.
Osteopathic medicine has expanded from one school in Kirksville, Missouri, to 38 accredited colleges across the U.S. For the founding American School of Osteopathy, now known as ATSU-KCOM, it is part of a thriving university comprising seven schools with online and residential programs spanning the health professions. In addition to its heritage campus in Kirksville, campuses are also located in Mesa, Arizona, and Santa Maria, California, with a learning site in St. Louis.
Still Magazine highlights each of ATSU's schools and how they are contributing to the innovative healthcare education that began 130 years ago. Through the perspectives of deans and students, they share a glimpse of what makes ATSU a special place to work and learn.
School of Osteopathic Medicine in Arizona
Established 2006
Innovation
1+3 model
ATSU-SOMA features a unique curriculum model where students are embedded in community health center partner sites early in their medical education. Beginning in their second year, students are immersed in team-based care, interprofessional collaboration, community-oriented primary care research, and population health as they learn to provide care for vulnerable communities.
Clinical presentation curriculum
The School focuses on transforming students into master adaptive learners through case-based inquiry in small-group learning. Using a clinical presentation model as the foundation of its curriculum, students learn the practice of medicine through the approximately 120 ways patients present to physicians.
The ATSU difference
ATSU-SOMA is at the forefront of preparing its students to thrive in the evolving healthcare landscape. From the start of their first year, students are educated in healthcare disparities and social determinants of health, population health, clinical skills, self-directed clinical reasoning skills, and point-of-care bedside ultrasound. In addition, they hone entrustable professional activities and, prior to graduation, ensure residency readiness through an immersive two-day, two-night intern physician simulation.
Destiné Cammon-Thompson
Second-year medical student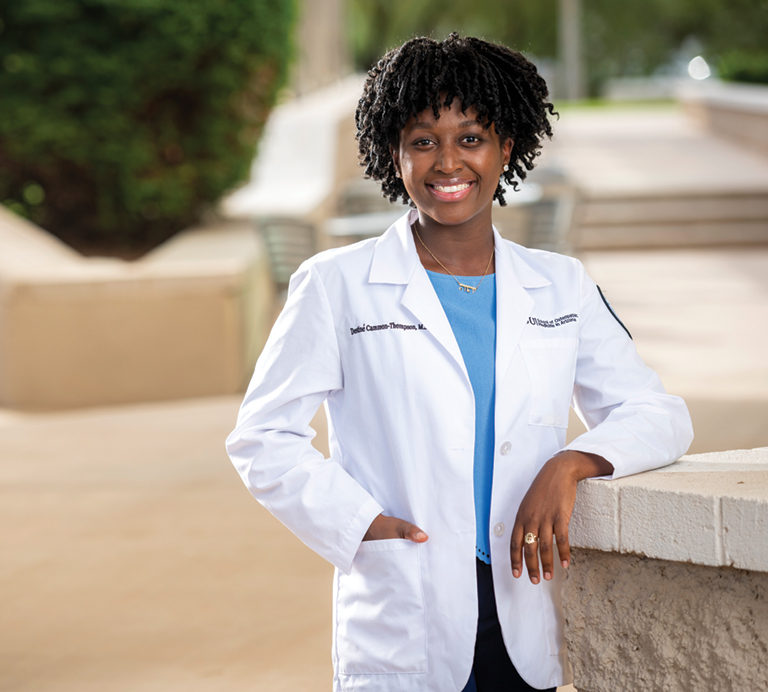 Day in the life
"After I wake up, I journal, review my Anki cards, watch lectures, and attend in-person sessions, if any. Then, I take an hour for nonschool-related fun, eat dinner, and end the day reviewing more notes."
Favorite thing about ATSU-SOMA
Interactions with facilitators who are practicing physicians
Career aspirations
Dual-certified pediatric specialist
Issa Ismail
Fourth-year medical student
Day in the life
"A typical day starts with a cup of coffee while I make my kids their breakfast and pack their school snacks. Then it's off to the hospital or clinic for the day. When I get home, I eat dinner with the family and help my wife put the kids to bed, and if I'm not exhausted by that point, I try to study a little before bed."
Favorite thing about ATSU-SOMA
Clerkships in community hospitals
Career aspirations
Physician serving and advocating for local community
Sharon Obadia, DO, FNAOME, '97
ATSU-SOMA interim dean
"As ATSU-SOMA's curriculum evolves to meet the healthcare needs of vulnerable communities, I am incredibly proud to represent us. Through the tremendous dedication of staff, faculty, administrators, regional education coordinators, regional directors of medical education, community health center partners, and a growing number of our alumni reengaging, everyone has the singular goal of creating compassionate and competent osteopathic physicians caring for those most in need."
Alumni perspective
Brian Goodman, DO, '14, deputy chief medical officer at North Country HealthCare in Show Low, Arizona, says, "The curriculum is designed in a way that prepares doctors to work in rural underserved communities. I was raised in a rural community and remember a talk from Dr. Gary Cloud about efforts to impact infant mortality rates in a border town. A forward-thinking healthcare system realized that pregnant patients were seeking care and advice from the elderly women in the town. To impact change, they realized they had to partner with these elderly women. I remember thinking about how we have to truly work with members of the community to realize community health. Something clicked for me that day, and I think of this story frequently as I serve as a healer in my small community."
View the video below to see more about ATSU-SOMA, in their words.
To learn about innovative healthcare education at other ATSU schools, please follow the links below:
atsu.edu/news/atsu-celebrates-innovative-healthcare-education-atsu-kcom
atsu.edu/news/atsu-celebrates-innovative-healthcare-education-atsu-ashs
atsu.edu/news/atsu-celebrates-innovative-healthcare-education-atsu-cghs
atsu.edu/news/atsu-celebrates-innovative-healthcare-education-atsu-asdoh
atsu.edu/news/atsu-celebrates-innovative-healthcare-education-atsu-mosdoh
atsu.edu/news/atsu-celebrates-innovative-healthcare-education-atsu-chc