ATSU celebrates innovative healthcare education: ATSU-ASDOH
Posted: January 12, 2023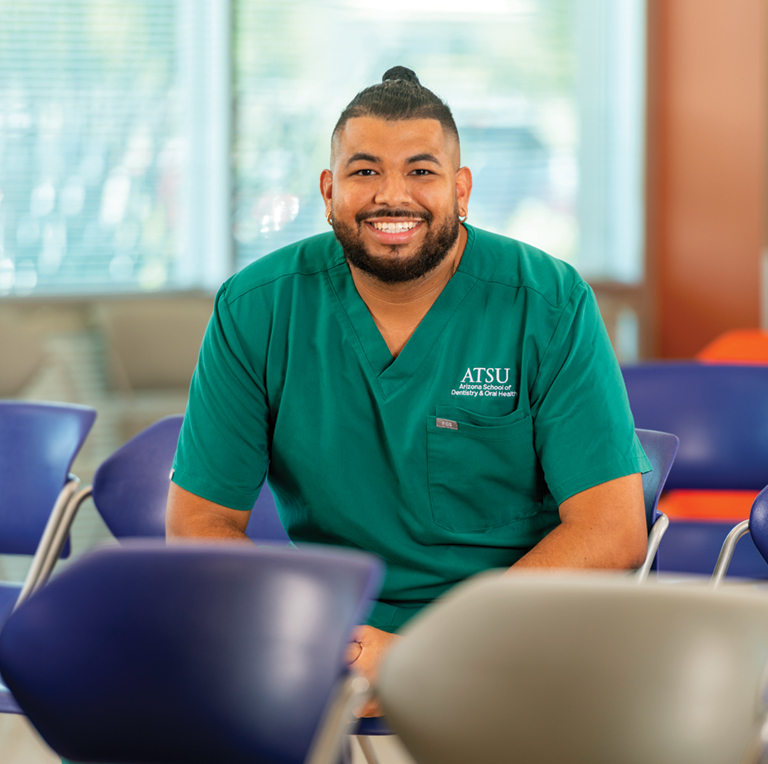 Still Magazine celebrates the University's 130th anniversary by recognizing the influence ATSU has made in healthcare and healthcare education. The concept of whole person healthcare may have seemed radical in 1892, but ATSU's founder, A.T. Still, DO, knew it was the best approach for patient care. His pioneering ideas were met with skepticism and resistance, but he remained steadfast in his beliefs. And today, his movement continues to grow.
Osteopathic medicine has expanded from one school in Kirksville, Missouri, to 38 accredited colleges across the U.S. For the founding American School of Osteopathy, now known as ATSU-KCOM, it is part of a thriving university comprising seven schools with online and residential programs spanning the health professions. In addition to its heritage campus in Kirksville, campuses are also located in Mesa, Arizona, and Santa Maria, California, with a learning site in St. Louis.
Still Magazine highlights each of ATSU's schools and how they are contributing to the innovative healthcare education that began 130 years ago. Through the perspectives of deans and students, they share a glimpse of what makes ATSU a special place to work and learn.
Arizona School of Dentistry & Oral Health
Established 2003
Innovation
Community-focused curriculum
ATSU-ASDOH's predoctoral curriculum provides students with a deep understanding of the social determinants of health and the ability to become leaders who address health inequities in their communities.
Integrated Community Service Partnerships (ICSP)
Starting late in the third year and continuing throughout the fourth year, the ICSP program consists of rotations at four to five community health centers within ATSU-ASDOH's national network of approximately 70 sites. During these rotations, students gain extensive clinical experience providing oral healthcare to underserved populations and gain a better understanding of the communities they serve.
Clinic technology
A national leader in implementing the latest technology and techniques into patient care centers, the School's student clinical experiences include application of digital scanners, CAD/CAM, 3D printers, lasers, artificial intelligence-based software, teledentistry, and more.
Group general practice structure
The heart of ATSU-ASDOH's clinical education program is a practice environment consisting of comprehensive care units, specialty clinics, and specialty faculty. The School also has one of the most highly recognized programs for providing oral healthcare to patients with special needs, including complex medical conditions.
The ATSU difference
Founded with a commitment to the communities it serves, ATSU-ASDOH programs provide students with
a depth and scope of clinical experiences second to none, and community members have the opportunity to access affordable oral healthcare in a patient-centered environment. Graduates are committed to providing access to care in a wide variety of practice settings, including community health centers, Indian Health Service and tribal clinics, and the military and public health service, as well as serving as faculty members and volunteers for community and humanitarian events.
Dimitri Mahee
Second-year dental student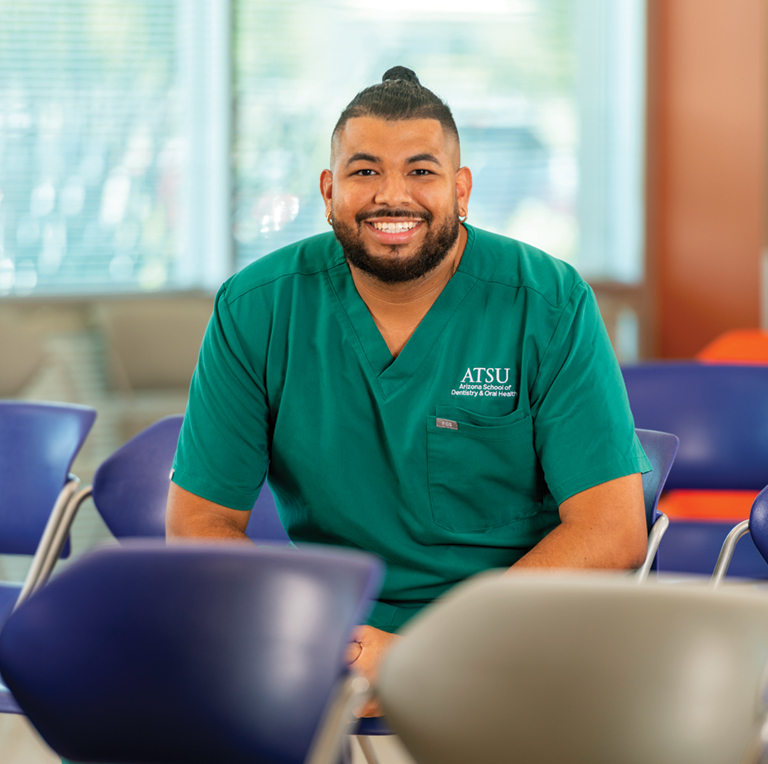 Day in the life
"A typical day for me consists of didactic classwork while juggling simulation clinic and seeing patients in the clinic. While it's all very challenging, I welcome challenges, as they will help me become the best clinician I can be."
Favorite thing about ATSU-ASDOH
Camaraderie
Career aspirations
Dentist at Indian Health Service facility or tribal clinic, eventually building a practice and creating a dental support organization, while serving on dental mission trips throughout career
Morris Bui
Second-year dental student
Day in the life
"After my morning routine and some stretching, I head out and drive to school, which is no more than 5 minutes away. Some days of the week we are in the didactic lecture halls, and the other days at what I like to call, 'The Dojo.' My favorite days are when we are at the simulation clinic, 'The Dojo,' because it really challenges the mind and body. It is a great change of pace from all the bookwork we have. Most times, I go home for lunch, but every once in a while, groups of classmates will go eat out together. The school days usually end around 5:00 p.m. Once I get home, I have dinner with my roommate and girlfriend who lives with me."
Favorite thing about ATSU-ASDOH
Supportive faculty and community outreach opportunities
Career aspirations
Dentist who serves all community members
Robert Trombly, DDS, JD
ATSU-ASDOH dean
"ATSU-ASDOH was founded with an institutional culture of caring for others and giving back to our communities. What I continue to experience with each new entering class of predoctoral students and residents, and with each new staff and faculty member who joins our ATSU-ASDOH family, is this culture of caring keeps growing stronger every year."
Alumni perspective
Andrew Larkin, DMD, MPH, '19, a second-year resident in ATSU-ASDOH's Postgraduate Orthodontic Program, says, "Having state-of-the-art facilities with forward-thinking faculty is ultimately what helped me decide to complete my dental training here at the Mesa, Arizona, campus. During completion of the DMD program, I truly realized the significance of the 'ATSU-ASDOH family' I had heard so much about, and the impact it has on students both personally and professionally."
View the video below to see more about ATSU-ASDOH, in their words.
To learn about innovative healthcare education at other ATSU schools, please follow the links below:
atsu.edu/news/atsu-celebrates-innovative-healthcare-education-atsu-kcom
atsu.edu/news/atsu-celebrates-innovative-healthcare-education-atsu-ashs
atsu.edu/news/atsu-celebrates-innovative-healthcare-education-atsu-cghs
atsu.edu/news/atsu-celebrates-innovative-healthcare-education-atsu-soma
atsu.edu/news/atsu-celebrates-innovative-healthcare-education-atsu-mosdoh
atsu.edu/news/atsu-celebrates-innovative-healthcare-education-atsu-chc