ATSU celebrates innovative healthcare education: ATSU-CHC
Posted: January 12, 2023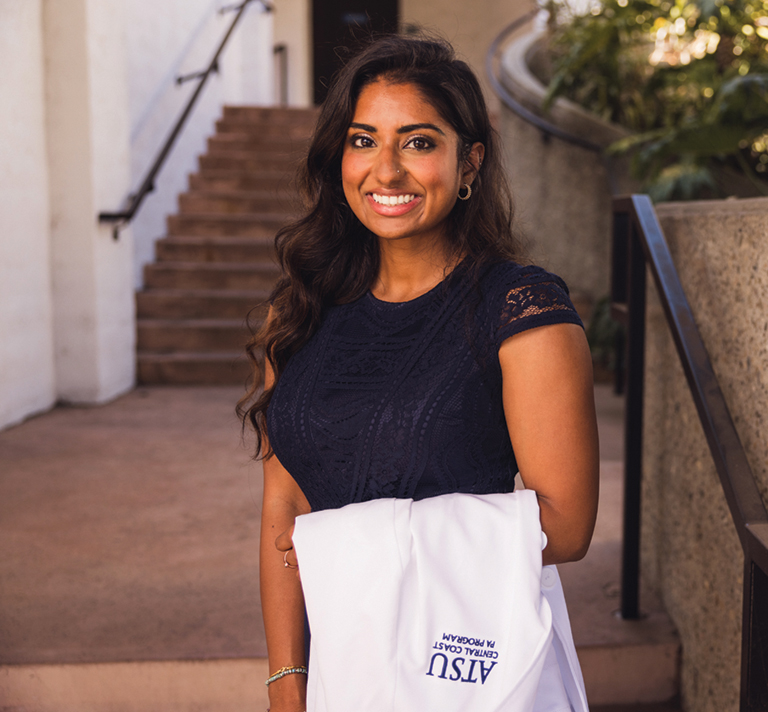 Still Magazine celebrates the University's 130th anniversary by recognizing the influence ATSU has made in healthcare and healthcare education. The concept of whole person healthcare may have seemed radical in 1892, but ATSU's founder, A.T. Still, DO, knew it was the best approach for patient care. His pioneering ideas were met with skepticism and resistance, but he remained steadfast in his beliefs. And today, his movement continues to grow.
Osteopathic medicine has expanded from one school in Kirksville, Missouri, to 38 accredited colleges across the U.S. For the founding American School of Osteopathy, now known as ATSU-KCOM, it is part of a thriving university comprising seven schools with online and residential programs spanning the health professions. In addition to its heritage campus in Kirksville, campuses are also located in Mesa, Arizona, and Santa Maria, California, with a learning site in St. Louis.
Still Magazine highlights each of ATSU's schools and how they are contributing to the innovative healthcare education that began 130 years ago. Through the perspectives of deans and students, they share a glimpse of what makes ATSU a special place to work and learn.
College for Healthy Communities
Established 2021
Innovation
Admissions process
ATSU-CHC's Central Coast Physician Assistant (CCPA) program uses an admissions process designed to capture more than just the academic profile of the applicants. Rather, it looks holistically at each applicant and selects a highly diverse class of individuals who are committed to a future serving the underserved and who will thrive in the model of clinical training within community health centers.
Course delivery
The CCPA program developed a case-based curriculum using a flipped-classroom delivery focused on small-group learning. Students are given comprehensive patient cases each week, which they study in advance of working together in small groups to develop diagnostic and treatment strategies.
The ATSU difference
ATSU collaborated with the National Association of Community Health Centers to develop the CCPA
program, with the goal of educating community-oriented physician assistants who will provide whole person care to underserved communities. Students spend one year on campus in Santa Maria for the preclinical phase of the program. Then, students enter the clinical phase, including 35 weeks of supervised clinical practice experiences in various medical disciplines. Students spend the entire clinical phase primarily at one of the partner community health centers located across the U.S.
Liny Varghese
Physician assistant student, '23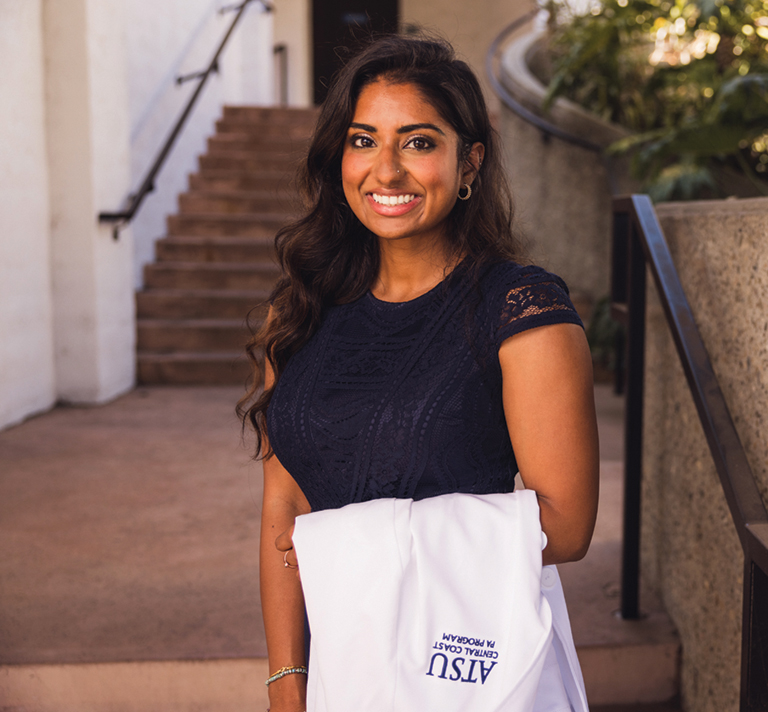 Day in the life
"On a typical class day, we sit in a group of five classmates with whom we work for the entirety of the term. The day starts with a faculty-led patient case. Faculty-led cases are a favorite among the class as we can take advantage of the valuable knowledge and experience of our instructors in their real-world experience. This transitions into student-based cases for the rest of the day, where we work as a group to look through patient vignettes and formulate diagnostics and a plan. At some point in the day, groups alternate attending a class called Patient Assessment where we break off to go to mock clinic rooms to practice physical exam skills or use models to simulate a procedure."
Favorite thing about ATSU-CHC
Professors and classmates
Career aspirations
Physician assistant specializing in pediatrics in community health setting
Cynthia Sanchez
Physician assistant student, '23
Day in the life
"We attend on-campus classes three times a week from 8:00 a.m.-5:30 p.m. with a 1.5-hour lunch break. Our classroom is a big learning theater that sits all 88 of us in groups of five. We get a new group every term. Every morning we complete a set of short quizzes, which tests us on the learning material assigned the day before. Once that is complete, we move on to patient cases. For the clinical medicine portion of the program, every group is assigned the same set of patient cases, which we are required to complete while on campus. Additionally, we have a block of time specifically for Patient Assessment, which is the hands-on portion. Depending on the material, faculty will either demonstrate or explain the information verbally or visually through a video for which we then spend time practicing the new skills on our classmates or medical models. We are also assigned weekly professional practice assignments, which we work on as a group. Finally, there is another set of end-of-day quizzes consisting of a couple questions."
Favorite thing about ATSU-CHC
Supportive classmates and faculty
Career aspirations
Physician assistant and faculty member in hometown of Santa Maria
Valeria Felix
Physician assistant student, '23
Day in the life
"A typical day at school involves a lot of group collaboration and case studies. We are assigned the learning material the previous day and apply what we know. This style of learning emphasizes teamwork dynamics and interprofessional communication."
Favorite thing about ATSU-CHC
Diversity of classmates
Career aspirations
Physician assistant in hometown of Guadalupe, California
Eric Sauers, PhD, AT, FNATA, '97
ATSU-CHC dean
"During my brief tenure leading ATSU-CHC, I have been spending time meeting with all the faculty and staff to learn more about their personal and professional backgrounds, their role within the College, what they are passionate about in their role, and what I can do to support them in their work. It's a great place to come to work every day where you get to see the smiles of the students and see the commitment of the faculty to helping them learn."
View the video below to see more about ATSU-CHC, in their words.
To learn about innovative healthcare education at other ATSU schools, please follow the links below:
atsu.edu/news/atsu-celebrates-innovative-healthcare-education-atsu-kcom
atsu.edu/news/atsu-celebrates-innovative-healthcare-education-atsu-ashs
atsu.edu/news/atsu-celebrates-innovative-healthcare-education-atsu-cghs
atsu.edu/news/atsu-celebrates-innovative-healthcare-education-atsu-asdoh
atsu.edu/news/atsu-celebrates-innovative-healthcare-education-atsu-soma
atsu.edu/news/atsu-celebrates-innovative-healthcare-education-atsu-mosdoh