ATSU celebrates innovative healthcare education: ATSU-KCOM
Posted: January 12, 2023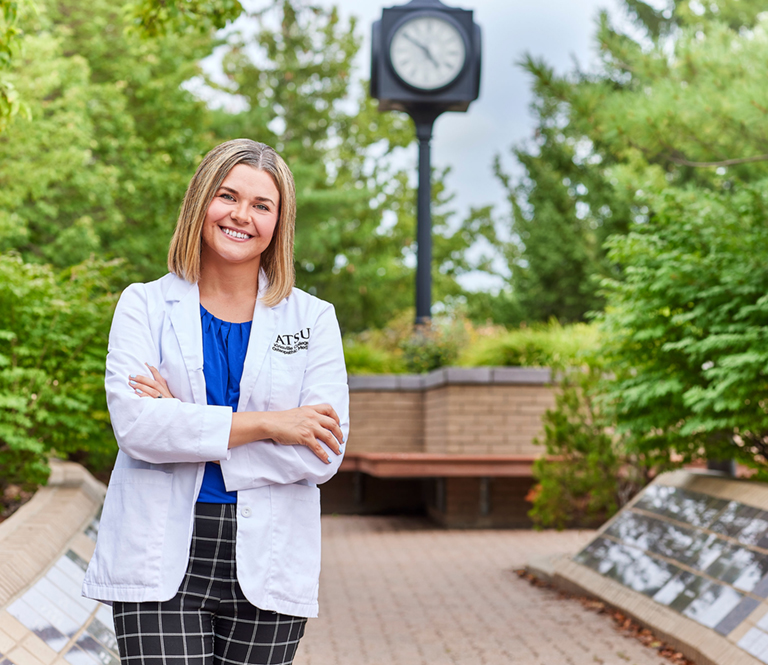 Still Magazine celebrates the University's 130th anniversary by recognizing the influence ATSU has made in healthcare and healthcare education. The concept of whole person healthcare may have seemed radical in 1892, but ATSU's founder, A.T. Still, DO, knew it was the best approach for patient care. His pioneering ideas were met with skepticism and resistance, but he remained steadfast in his beliefs. And today, his movement continues to grow.
Osteopathic medicine has expanded from one school in Kirksville, Missouri, to 38 accredited colleges across the U.S. For the founding American School of Osteopathy, now known as ATSU-KCOM, it is part of a thriving university comprising seven schools with online and residential programs spanning the health professions. In addition to its heritage campus in Kirksville, campuses are also located in Mesa, Arizona, and Santa Maria, California, with a learning site in St. Louis.
Still Magazine highlights each of ATSU's schools and how they are contributing to the innovative healthcare education that began 130 years ago. Through the perspectives of deans and students, they share a glimpse of what makes ATSU a special place to work and learn.
Kirksville College of Osteopathic Medicine
Founding college, established 1892
Innovation
Comprehensive clinical ultrasound program
ATSU-KCOM was a national leader in incorporating bedside ultrasound into its medical curriculum, and today, the College continues to have one of the most extensive programs.
State-of-the-art human patient simulation lab
One of the best simulation labs in the country, the Drabing Human Patient Simulation Lab uses current technology with hands-on experience in clinical care to educate students and residents.
The ATSU difference
ATSU-KCOM is committed to student success and producing the best osteopathic physicians to meet the needs of patients. The curriculum, though demanding, prepares students to be successful in every aspect of their future, including boards, residency match, and practice. In addition to academic preparation, the College provides a supportive environment for students to learn and grow into well-rounded professionals. Alumni often refer affectionately to their time on campus as the "Kirksville experience," where they made many lifelong friends and colleagues.
Megan J. Lee
Fourth-year medical student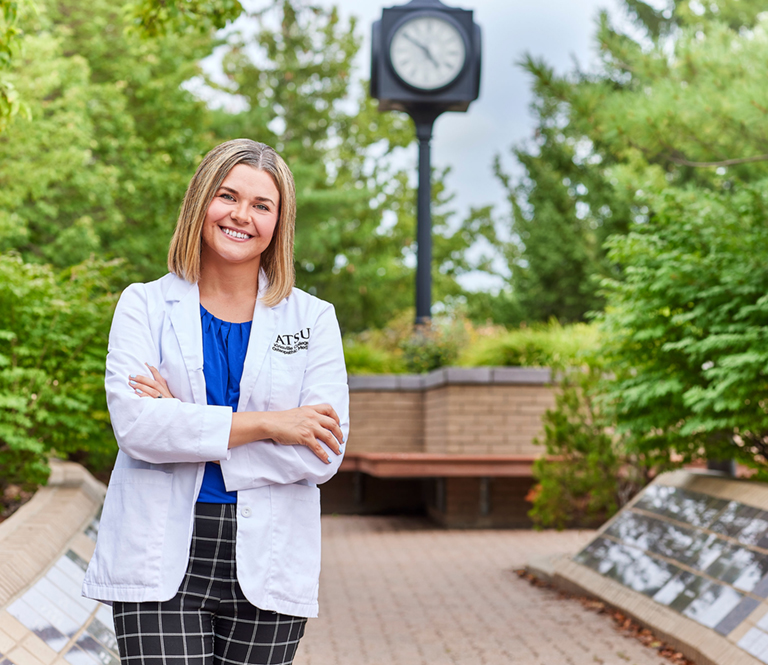 Day in the life
"Each year's typical school day has been vastly different. The first two years were like opening the floodgates – the sheer amount of knowledge is still overwhelming to think about! I became pregnant with my son shortly before my second year. The staff and faculty were so supportive and happy for me! When my son made his healthy arrival, I was given plenty of time off. I kept up with my schoolwork from home and had extra support from faculty and staff throughout those first few months as a new mom. Now, I'm finishing up my clinical clerkship rotations and applying to residencies. Many days are spent in clinics or hospitals, obtaining detailed patient histories, performing physical exams, producing assessment lists and plans, and of course, lots of charting."
Favorite thing about ATSU-KCOM
The faculty
Career aspirations
Family medicine physician
Ryan McLachlan
Third-year medical student
Day in the life
"A school day for me always starts with a trip to the Thompson Campus Center, then focus on school. During my first two years, I would spend the morning watching lectures from the day before, with the afternoon spent on board prep. This past year during my fellowship, I spent a lot of time in the simulation and ultrasound labs. In the evening and my spare time, I spend time with my wife, Rachel, and our dog, Della."
Favorite thing about ATSU-KCOM
Sense of community
Career aspirations
Family medicine physician in rural area
Margaret Wilson, DO, '82
ATSU-KCOM dean
"It has been an incredible honor to serve as dean for my alma mater. I have been so fortunate to be able to serve my college and my profession in this position during these past 10 years. I truly love the people. ATSU-KCOM students are outstanding; they are hardworking and dedicated to becoming the best possible professionals. Our staff and faculty are very committed to student success and work collegially to make it a wonderful learning and working environment. I also love the history we get to see and experience being on the Kirksville, Missouri, campus. It is inspiring."
Alumni perspective
John Thurman Jr., DO, '12, a family medicine attending physician at Southeast Iowa Regional Medical Center in Fort Madison, says, "I graduated my undergraduate studies from the United States Military Academy at West Point, the nation's first military academy. I recognized early on when an institution is the first, then generally it does not rest on its laurels and continues to strive toward excellence. The College continues to have a strong focus on body, mind, and spirit in concert with osteopathic manipulation with the application of the modern, and changing, needs of medicine. The program most prepared me for my career by ensuring a focus on humanity with every patient encounter."
View the video below to see more about ATSU-KCOM, in their words.
To learn about innovative healthcare education at other ATSU schools, please follow the links below:
atsu.edu/news/atsu-celebrates-innovative-healthcare-education-atsu-ashs
atsu.edu/news/atsu-celebrates-innovative-healthcare-education-atsu-cghs
atsu.edu/news/atsu-celebrates-innovative-healthcare-education-atsu-asdoh
atsu.edu/news/atsu-celebrates-innovative-healthcare-education-atsu-soma
atsu.edu/news/atsu-celebrates-innovative-healthcare-education-atsu-mosdoh
atsu.edu/news/atsu-celebrates-innovative-healthcare-education-atsu-chc