ATSU-CHC celebrates inaugural CCPA program students with White Coat Ceremony
Posted: September 2, 2022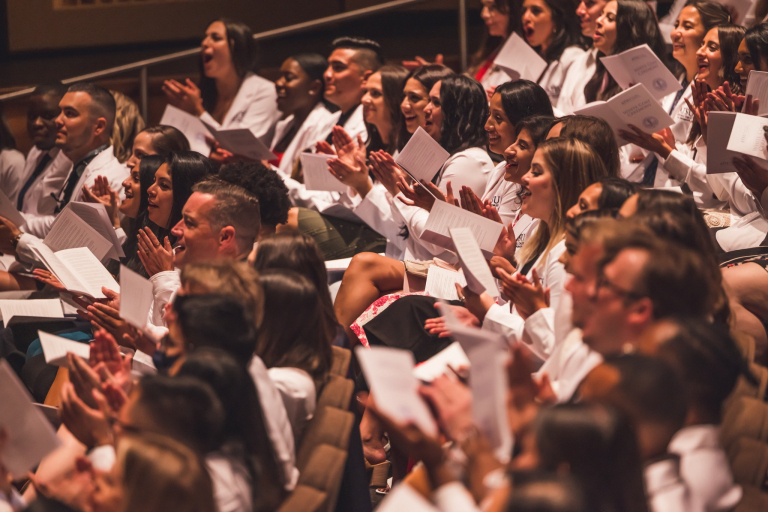 A.T. Still University-College for Healthy Communities (ATSU-CHC) Central Coast Physician Assistant (CCPA) program celebrated the inaugural class of 2023 with a White Coat Ceremony on Friday, Aug. 26, 2022 at Harold J. Miossi Cultural and Performing Arts Center at Cuesta College in San Luis Obispo, California.
Keynote speaker Randy Danielsen, PhD, PA-C Emeritus, DFAAPA, professor and director of the Doctor of Medical Science (DMSc) program in the Physician Assistant Studies department at ATSU's Arizona School of Health Sciences, said the white coat serves as a symbol of transformation and a right of passage, and admired students' perseverance and hard work leading up to this moment. 
"I would like you to think for a moment that the white coat symbolizes healing. It represents a contract between you and each patient under your care. The contract may mean you, and indeed all PAs, will provide the best evidence-based practice science has available in a compassionate and supportive environment to facilitate healing," Dr. Danielsen said.
"With everything happening right now, COVID, racial injustice, climate change, remember you have an extraordinary role as a PA student. You are in a unique position where your voice will be heard, so even though this may be one of the busiest times in your life, take time to contribute to society. Be an activist, join the fight to make this a better world."
Eric Sauers, PhD, AT, FNATA, professor and dean of ATSU-CHC, told students to celebrate this huge milestone they have reached in their journey, and emphasized the difference PAs make in the lives of many.
"I'm not only excited about the future that lies ahead for you, I'm grateful you have chosen to be a PA. What a difference your profession makes in our healthcare world – increasing access to the underserved, contributing to decreasing health disparities, contributing to healthcare scholarship, and providing collaborative care," Dr. Sauers said.
PAs are among the fastest growing health professions in the United States, with the U.S. Bureau of Labor Statistics predicting a 31% increase in the number of practicing PAs within the next 10 years.
Norman Gevitz, PhD, senior vice president of academic affairs for ATSU, also congratulated the inaugural class and commended their commitment to the profession.
"You are now entering the clinical portion of a program that we believe will transform physician assistant education nationally. You are truly pioneers," Dr. Gevitz said.
Watch the ceremony here: