ATSU-ASHS OT and PT programs host annual baby lab
Posted: September 18, 2023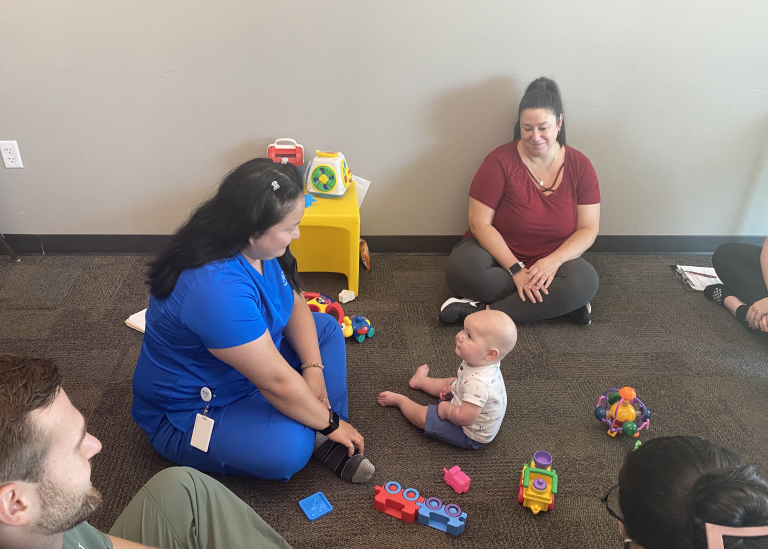 Students from A.T. Still University-Arizona School of Health Sciences' (ATSU-ASHS) Physical Therapy (PT) and Occupational Therapy (OT) departments joined together for a day of interprofessional collaboration and education during the departments' annual baby lab Aug. 26, 2023, on the Mesa, Arizona, campus.
"OTs and PTs often work closely together in the pediatric setting and collaborate in the assessment of motor development in an infant," explained Katie Jones, MA, OTR/L, CLT-LANA, CWT, assistant professor and director of progression and retention, ATSU-ASHS' OT department.
"Baby lab was designed to provide an interprofessional education experience for second-year students to observe infant gross motor and fine motor skills and collaborate on expanding their knowledge of infant motor development," she added.
Thirty-five children ages two months to two years participated in the lab, where students observed them playing with toys, rolling, crawling, walking, and interacting with other children, caregivers, and students. In total, 33 caregivers attended.
After the observation period, students analyzed the developmental sequences of each child's fine and gross motor skills. This interprofessional assignment required students to look at the children's primitive reflexes and examine their movements and transitions.
"This lab was a great experience not only as a future OT, but also as an individual who doesn't have a lot of experience in the pediatric setting. I felt like this lab boosted my confidence in my clinical observations, rapport building, and therapeutic handling skills," said second-year student Emerson Jesus, MSOT, '24.
Faculty members from both departments worked together to develop this lab activity for students, including OT department faculty members Briana Bonner, OTD, OTR/L, assistant professor, academic fieldwork coordinator, Haley LeSueur, MSOT, OTR/L, NTMTC, adjunct instructor, Jennifer Radziak, OTD, OTR/L, CHT, program director, assistant professor, and Rebecca Wolf, JD, MPH, OTR/L, chair, associate professor.
PT faculty members involved in this activity included Monica Queen, PT, DPT, assistant professor, Deanne Fay, PT, DPT, PhD, director, and Danielle Kyman, PT, DPT, adjunct assistant professor.