Two ATSU-ASHS OT students present at Western Regional OT Spring Symposium
Posted: March 18, 2023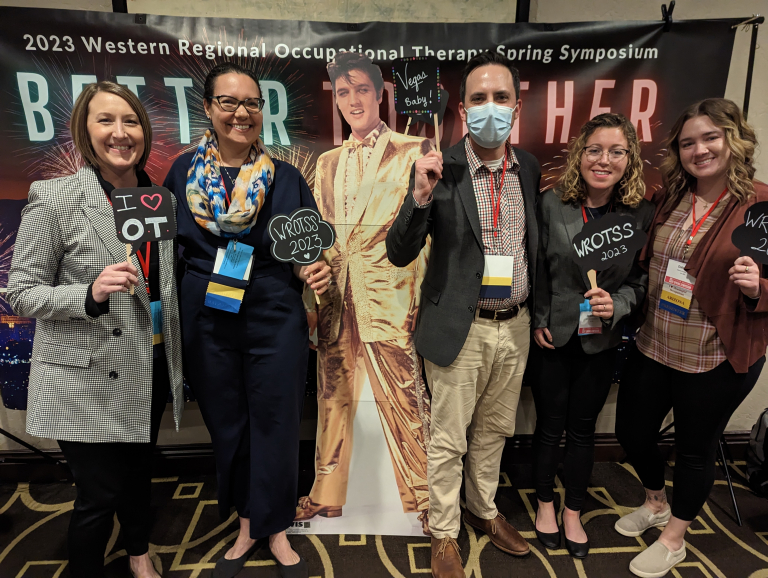 Members of ATSU-ASHS' OT department at the Western Regional OT Spring Symposium. From left to right: Meryl "Abbey" Glenn, OTD, MS, OTR/L, CBIS, assistant professor, doctoral capstone coordinator, Rebecca Wolf, chair, associate professor, JD, MPH, OTR/L, Benjamin Gross, MOT, instructor, Jacqueline Morrison, OTD, '23, and Dalenna Bellum, OTD, '23.
Two third-year A.T. Still University-Arizona School of Health Sciences (ATSU-ASHS) Occupational Therapy program students were recently selected to present at the Western Regional OT Spring Symposium (WROTSS) in Las Vegas. 
Students Dalenna Bellum, OTD, '23, and Jacqueline Morrison, OTD, '23, presented their doctoral capstone projects at the conference on March 4, 2023.
OTD students are required to submit their capstone projects for presentation or publication. These capstone projects represent a culmination of everything OTD students have learned throughout their time in the program.
"This was the first professional conference I have attended and I had a great experience both as an attendee of the conference and as a presenter," said Bellum.
"I really enjoyed the opportunity to not only network with other OT practitioners and students from Arizona, but also from other states. It was great to see what has been beneficial in practice in other settings and states as well," Bellum added.
This symposium brings together occupational therapy associations from the Western U.S., where attendees can network, develop their professional skills, listen to presentations from leaders in the field, and more.
"My experience presenting at WROTSS was great! Of course I was nervous at first, but I had a very supportive and engaging audience. I was also able to network with other students and occupational therapists, which was nice," said Morrison.