ATSU-SOMA students participate in day of community service
Posted: November 1, 2023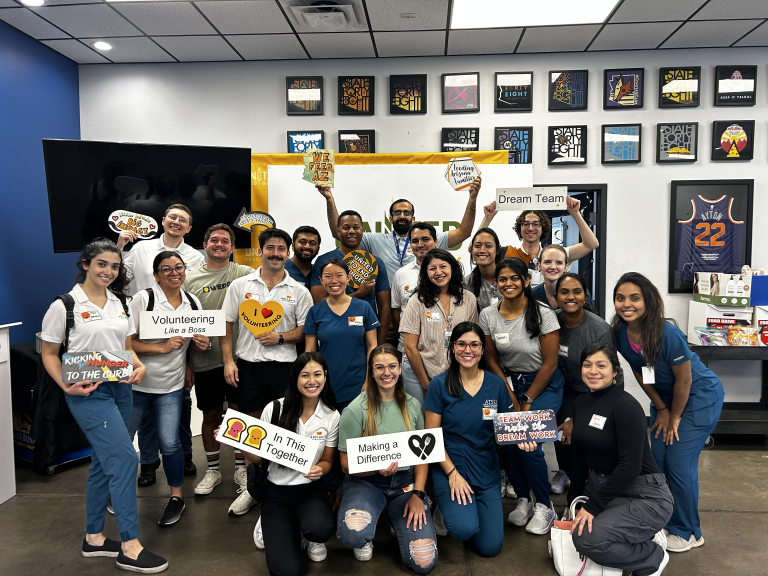 ATSU-SOMA students in Mesa, Arizona, volunteer at United Food Book.
Approximately 250 students, faculty, and staff from A.T. Still University-School of Osteopathic Medicine in Arizona (ATSU-SOMA) participated in a community service day on Thursday, Oct. 5, 2023.
"These activities are vital to fulfill our mission of service to underserved populations across our country. These activities also intentionally place our students into the community, helping to bring about a positive change. The hope is that these activities help remind us of why we wanted to become a physician in the first place," said Aaron Allgood, DO, FACP, chair, associate professor, clinical science education.
First- and second-year osteopathic medical students in Mesa, Arizona, split their time giving back among three local nonprofits, Feed My Starving Children (FMSC), Project C.U.R.E., and United Food Bank.
At FMSC, volunteers packed meal boxes that will provide meals for children in need in developing countries. At Project C.U.R.E., volunteers assisted the organization in packing and organizing medical equipment and supplies which will be sent to hospitals and clinics in underserved countries across the globe, and at United Food Bank, volunteers sorted and boxed food donations.
In addition, several ATSU-SOMA students completing their clinical rotations at community partner sites across the country also had the opportunity to participate in the day of service at nonprofit organizations in their respective communities.
"We had an overwhelming positive response from our students. Perhaps more importantly, our students were able to create new relationships with community organizations that will hopefully be long lasting," Dr. Allgood said.