ATSU-ASHS OT students, faculty volunteer during University's orientation week
Posted: July 24, 2023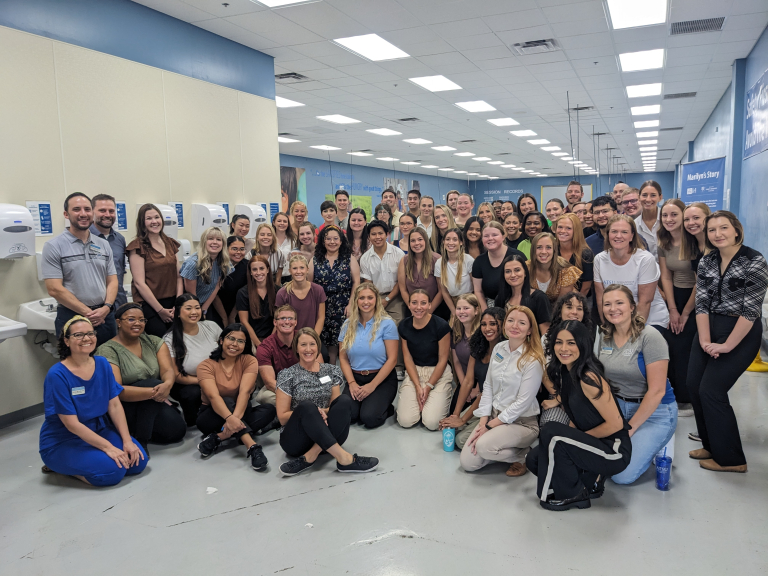 New student orientation week is one of the most exciting times for A.T. Still University's incoming students. But with so many new sights and sounds, it can feel overwhelming stepping onto campus on the first day of classes.
In order to help some of their newest students feel more welcomed, students and faculty from ATSU-Arizona School of Health Sciences (ATSU-ASHS) Master of Science in Occupational Therapy (MSOT) program and Doctor of Occupational Therapy (OTD) program volunteered during new student orientation week.
"This is a great way for incoming students to get to know their peers, faculty, and staff in a low stress environment. It provides them with a shared experience that they can discuss going into the OT department orientation and the first week of class, which helps them feel connected to one another," said Rebecca Wolf, JD, MPH, OTR/L, chair and associate professor of ATSU-ASHS' OT department.
On day one of orientation week, 52 incoming students joined nine second-year students, six faculty members, and one staff member at Feed My Starving Children (FMSC), a Mesa-based nonprofit where teams work together to pack nutritious meals for children in need in developing countries.
This is the second year the OT department has hosted this volunteer activity during orientation week, and the department hopes to make this an annual activity.
Dr. Wolf explained, "This is an ATSU mission-aligned experience because the purpose of volunteering is to help vulnerable individuals and communities, which directly aligns with the values of our University."
Donning hairnets and gloves, students, faculty, and staff hand-packed each meal, which are called MannaPack™ meals. These meals consist of rice, soy, dried vegetables, and vitamins, and are formulated to supplement nutritional needs and reduce problems with malnutrition.
For second-year student Janette Cantu, OT, '24, participating in last year's volunteer activity led to her love of FMSC's mission, and encouraged her to attend this year to help support incoming students during this transitional time in their lives.
"My cohort and faculty within my program have been very involved with welcoming and organizing events during orientation for incoming students, and this was an opportunity to welcome them in person," Cantu said.
She added, "Occupational Therapy at ATSU focuses on serving the community through holistic healthcare practice, and so seeking and participating in volunteer opportunities allow incoming students to understand what resources are available to them in the community, or even at a much larger scale."
In total, the teams packed 197 boxes, which will provide over 42,000 meals for children in underserved areas across the globe.