The women of ATSU
Posted: August 4, 2017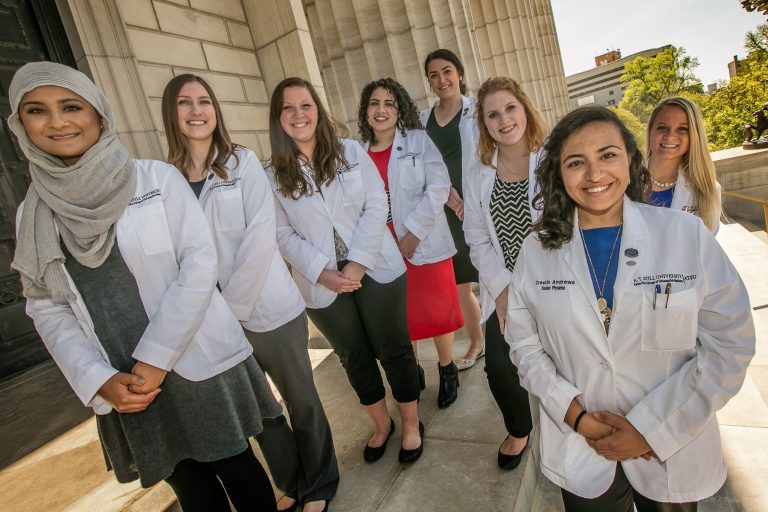 Students from ATSU-KCOM participate in Missouri Osteopathic Medicine Awareness Day at the state Capitol in Jefferson City.
From the very beginning of ATSU's history, women have stood shoulder to shoulder with men to become osteopathic physicians. In the late 1800s, at a time when female physicians were rare,  openly accepting women into medical school was a monumental concept. The women from these early classes who became DOs were the same women who were not allowed to cast a vote, at least  until 1920. Thankfully, ATSU's founder, A.T. Still, DO, had the foresight to realize one's desire and ability to heal are not gender-specific.
At the American School of Osteopathy (ASO), women not  only were allowed enrollment, they also were treated equally. Dr. Still's statements and actions indicated he was a strong proponent of gender equality. His signature even appeared on a petition advocating for women's suffrage. According to Jason Haxton, MA, director for the Museum of Osteopathic Medicine, female students at the ASO were not given subservient roles. In fact, women  taught courses alongside Dr. Still.
"People thought Dr. Still was crazy because he washed his hands between patients and allowed women in his school," says Haxton. "He considered women to be equals, and nobody dared to treat them any differently."
Fast-forward 125 years, female students make up the majority of ATSU's student body. Women from all backgrounds come to study osteopathic medicine and other healthcare disciplines. Hundreds of alumnae graduate each year and pursue their dream careers, thanks to the pioneering women who led the way.
One of today's notable female leaders is Margaret Wilson, DO, '82. Born in Kirksville, Missouri, Dr. Wilson was raised among some of the "greats of osteopathic medicine." Her grandparents were patients of Max Gutensohn, DO, '41. Her family's physician and next-door neighbor was Delbert Maddox, DO, '55. She lived down the street from anatomy professors Pressley Crummy, PhD, and George Snyder, PhD. Furthermore, two of Dr. Wilson's brothers attended ATSU-KCOM.
"I was fascinated by osteopathic medicine," she says. "I never wanted to be anything but a DO."
Dr. Wilson was determined to begin her career as soon as possible. Taking the fast track through Kirksville High School and Truman State University, she started at ATSU-KCOM at age 20. In her  class of 135 students, 13 were women. This small, cohesive group of women faced adversity, particularly in the clinical environment. During the late 1970s and early 1980s, gender bias was still  common in the medical field, and some male physicians were not welcoming to female physicians. Women were expected to be nurses, not doctors.
"On one rotation, the physician asked me, 'Whose son's place did you take in medical school?'" Dr. Wilson recalls. "Later, I really won him over. He grew to respect me and told me I was a good student."
Since then, Dr. Wilson has become a leader in osteopathic medicine. She currently serves as dean of ATSU-KCOM, the modern-day ASO. She has been the recipient of numerous honors, including the 2016 Medallion Award from the Missouri Association of Osteopathic Physicians and Surgeons for her significant service to the College. Her priorities have always been, and will continue to be, providing care for patients and educating students.
"At the end of the day, I hope I have served my patients, my students, and my community well," she says. "It isn't about anything big I have achieved as a dean; it's about the small things that may have made a difference."
The current healthcare field is much more receptive to female providers because of the women from previous generations who forged paths for equality. However, some gender bias is still visible today. Rather than being resentful or angry, women like Dr. Wilson have gained respect and acceptance by being smart and working hard.
ATSU's female trailblazers can be traced back to its first class. Some of the women from those early generations include Jenette Hubbard Bolles, DO, 1894; Lulu F. Stoltenberg McManis, DO, 1905; Charlotte W. Weaver, DO, 1912; Laura A. Parsons Tweed, DO, 1917; and M. Olwen Roberts Gutensohn, DO, 1943. Not only did these individuals become doctors, but they also contributed new knowledge, ideas, and leadership to a growing profession.
Jenette "Nettie" Hubbard Bolles, DO, 1894
Before she became a physician, Dr. Bolles was a school teacher. She had already attended Kansas State University and the University of Denver prior to enrolling in the ASO at age 29. She came to Kirksville initially to get treatment for her paralyzed mother. After her mother was able to walk again, Dr. Bolles asked Dr. Still if osteopathic medicine was something she could do. He told her a woman could learn to do anything a man could do, and she enrolled as a member of the ASO's first class. Dr. Bolles had many firsts in the osteopathic profession. As a student, she became the first editor of the
Journal of Osteopathy
. She was the first female osteopathic physician and the first female anatomy instructor at the School. After leaving Kirksville, she became the first osteopathic physician in the state of Colorado. In 1900, she opened the Bolles Institute of Osteopathy in Denver, which later merged with the ASO. She held executive positions with the Colorado Osteopathic Association, American Osteopathic Association, and Osteopathic Women's National Association and was appointed to the Colorado State Board of Medical Examiners.
In the January 1918 issue of the Journal of the American Osteopathic Association, Dr. Bolles wrote an article about Dr. Still's regard for women saying, "… when the first class was formed for the study of osteopathy, it was thrown open to women, who always received the heartiest encouragement and welcome from him. He often said that he would like to see the Constitution of the United States amended to read, 'There shall be no disabilities on account of race, color, sex, or previous condition of servitude.'"
Lulu F. Stoltenberg McManis, DO, 1905
Dr. Stoltenberg McManis enrolled in the ASO at age 24 from Dinuba, California. She graduated in 1905, the same year as her husband, John V. McManis, DO. The two were married on Sept. 17, 1906. Following graduation, Dr. Stoltenberg McManis practiced in Texas for six years. She also practiced in Montgomery City, Missouri, and Dayton, Ohio. The husband and wife duo developed the McManis Treatment Table, which was designed to create many treatment positions for patients while easing the stress on physicians during treatment. Beginning in the early 1910s, they established the McManis Table Company, and its headquarters was located at 500 W. Jefferson St. in Kirksville, Missouri. As co-inventor of the table, Dr. Stoltenberg McManis guest lectured with her husband on treatment table techniques.
Charlotte W. Weaver, DO, 1912
In 1909, at age 25, Dr. Weaver enrolled as a student in the ASO. Prior to attending school in Kirksville, she worked as a nurse and held an Ohio state teaching license. She also completed a year of study at Buchtel College, now the University of Akron, as well as hospital training at the Akron City Hospital.
After graduation from medical school, Dr. Weaver practiced in Akron, Ohio, and Paris, France. Inspired by Dr. Still's directives to carry on his research, she focused her work on cranial osteopathy and the nervous system. She became a certified specialist in nervous and mental disease by the Board of Examiners of the American Osteopathic Association. She was a fellow of the American College of Neuropsychiatry. Additionally, in 1927, she financially supported the establishment of the Dr. Charlotte Weaver Foundation, which worked to understand the central cerebrospinal nervous system.
As quoted in the 1912 Osteoblast yearbook, Dr. Weaver said, "To pity distress is but human; to relieve it is God-like."
Although not widely recognized, Dr. Weaver's work in cranial osteopathy was groundbreaking. She published 13 articles in the Journal of the American Osteopathic Association from 1936-38 and taught extensively. The collection of document, books, photographs, and drawings throughout her career is available today at the Museum of Osteopathic Medicine.
Laura A. Parsons Tweed, DO, 1917
Dr. Laura Tweed enrolled at the ASO in 1914. She worked four years as a visiting nurse at Saginaw General Hospital until she entered medical school at age 27. On July 19, 1915, she married Homer N. Tweed, DO, a fellow graduate from the class of 1917. In 1918, she received a fellowship in osteopathy from the ASO.
A quote about Dr. Laura Tweed from the 1917 Osteoblast yearbook reads, "Most any of us would be glad to be proficient in one thing only, but Laura knows Anatomy from A to Z, never [has] she been known to fail to answer quiz questions correctly in any of her classes."
Dr. Laura Tweed practiced in Michigan and South Pasadena, California. She became a member of the Osteopathic Women's National Association and worked as a researcher at the A.T. Still Research Institute. As a researcher, she published articles in the Journal of the American Osteopathic Association from 1927-30. Alongside her husband, she developed a preservation method for preparing flexible research models for study. The preserved models included flexible spinal columns.
M. Olwen Roberts Gutensohn, DO, 1943
Originally from Melbourne, Australia, Dr. Olwen Gutensohn attended the University of Melbourne before coming to the United States for her medical education. In 1942, as a student at the Kirksville College of Osteopathy and Surgery, she married Dr. Max Gutensohn. After graduation, Dr. Olwen Gutensohn practiced in North Dakota, Australia, and Missouri.
Much of Dr. Olwen Gutensohn's work revolved around osteopathic research and education. She taught neuroanatomy and osteopathic manipulative medicine at the College from 1948-79. She became a fellow of the American Osteopathic College of Rehabilitation Medicine. Her research was published in the Journal of Osteopathy and Journal of the American Osteopathic Association. In 1984, the Primary Care Clinic on the Missouri campus was renamed the Gutensohn Osteopathic Health and Wellness Clinic in honor of her and her husband.
Let's hear it for the ladies
Since 1892, the women of ATSU have proved they can do anything men can do. The University and the osteopathic profession would look much different today without Dr. Still's progressive philosophy and contributions of alumnae. These women, who overcame adversity and shattered barriers, shifted the paradigm of modern physicians and healthcare leaders. Each year, more and more female students follow their examples and positively influence healthcare in their communities.
Still Magazine extends a special thanks to the staff from the Museum of Osteopathic Medicine for their contributions. For more information on ATSU's early alumnae, contact the museum at 866.626.2878, ext. 2359, or email museum@atsu.edu.