PT alumni reception held at APTA CSM
Posted: February 24, 2017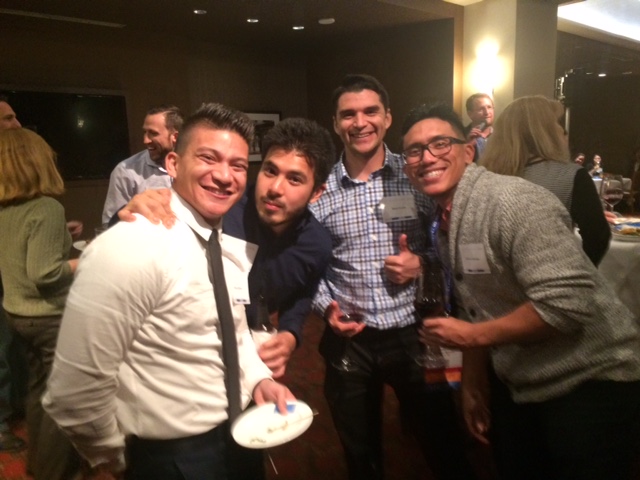 Alumni, students, and friends gathered in San Antonio, TX to hear from A.T. Still University Arizona School of Health Sciences Vice Dean Ann Lee Burch, EdD, MPH, PT, and Jim Farris, PT, PhD, chair and associate professor, ATSU-ASHS physical therapy department on Thursday, Feb. 16:
Many more of our PT faculty now have earned PhDs, adding to the strong foundation of academic and clinical skills and knowledge that makes our programs so successful.
The A.T. Still University School of Osteopathic Medicine in Arizona's Osteopathic Manipulative Medicine Clinic is being built and physical therapy is looking at possible partnerships with them in order to better serve the community.
The post-professional physical therapy program is now looking to expand into Canada and Puerto Rico through the leadership of Tammy Roehling, PT, DPT. The orthopedic and neurologic residency programs with Cheri Hodges, PT, DPT, and Cecelia Sartor-Glittenberg, PT, PhD, NCS, continue to expand and gain recognition throughout the country as well.
Your service as clinical instructors is always appreciated as we want to ensure our students continue to receive excellent training. If you would like to learn more about becoming a clinical instructor, please contact Tawna Wilkinson, PT, DPT, PhD, PCS.
Please consider making a contribution to the PT program by sponsoring a white coat for a student transitioning into their clinical year; or by supporting the Mason Vig Scholarship, a $2,500 scholarship that we give out annually to a student who goes above and beyond. Our students believe so strongly in giving back that they host several activities to help raise funds for this scholarship as well.
Please take a look at the ATSU Alumni Facebook page for more photos.