McLeod named inaugural John P. Wood, D.O., Endowed Chair for Sports Medicine
Posted: August 31, 2010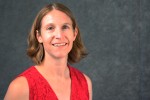 Tamara Valovich McLeod, Ph.D., ATC
MESA, Ariz. – Tamara Valovich McLeod, Ph.D., ATC, associate professor, athletic training at A.T. Still University's Arizona School of Health Sciences (ATSU-ASHS), now holds the title of the inaugural John P. Wood, D.O., Endowed Chair for Sports Medicine. The endowed chair is a five-year appointment with an opportunity to renew.
"Dr. McLeod has earned a national reputation as an expert in sports medicine, especially in the areas of pediatrics and sports-related concussion," said John Parsons, Ph.D., AT/L, athletic training program director. "This position is a fitting public recognition of her work, and relatedly, of the academic quality of the Athletic Training program at ATSU-ASHS."
"I am honored to be named the inaugural John P Wood, D.O., Endowed Chair for Sports Medicine," Dr. McLeod said. "Dr. Wood was an esteemed orthopedic surgeon and worked hard to promote the osteopathic medical profession. I hope to use this title and the associated funds to further our research and community outreach in athletic training and sports medicine, specifically related to pediatric sports medicine concerns and sport-related concussion."
The endowed chair was created through funds established by John P. Wood, D.O., with gifts made by Dr. Wood during his lifetime and subsequently through his son, Mr. John P. Wood. John P. Wood, D.O., FAOAO, FACOS, was a 1927 graduate of A.T. Still University's Kirksville College of Osteopathic Medicine (ATSU-KCOM). Dr. Wood's contributions to the osteopathic medical profession were numerous, and he was very active in orthopedics and sports medicine throughout his distinguished career as an orthopedic surgeon.
Funds from the John P. Wood, D.O., Endowed Chair for Sports Medicine will support sports medicine education and research, while funding for orthopedic surgery will be used by ATSU-KCOM.