Hometown Scholars students receive scholarships
Posted: June 30, 2016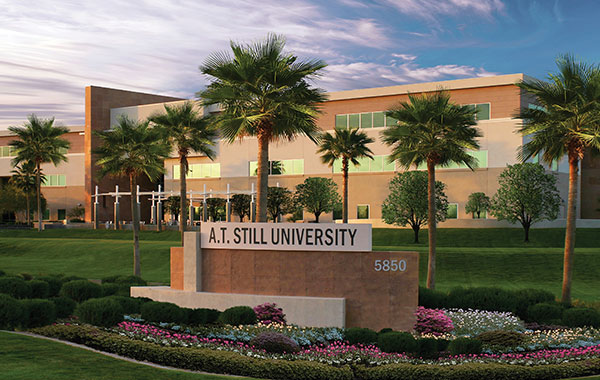 In recognition of National Association of Community Health Centers' (NACHC) 50th anniversary in 2015, ATSU reserved $50,000 for Hometown Scholars scholarships. The Hometown Scholars program, initiated in response to requests from Community Health Centers (CHC), helps ATSU meet the needs of CHCs by attracting and training dedicated, motivated, and qualified community-minded individuals who aspire to become healthcare providers. Applicants who have been endorsed by a CHC leader and matriculate into ATSU are eligible for the scholarships.
In 2016, three Hometown Scholar students were each awarded $2,500:
Brenda Pecotte de Gonzales, OMS IV, A.T. Still University's School of Osteopathic Medicine in Arizona, was endorsed by Art Martinez, MD, and Laura de la Torre, MD, El Rio Community Health Center in Tucson, Arizona.
Sadaf Hussain, D4, A.T. Still University's Missouri School of Dentistry & Oral Health, developed his 'CHC heart' at St. Elizabeth Ann Seton Dental Clinic in Milwaukee, Wisconsin.
James Younan, D4, A.T. Still University's Arizona School of Dentistry & Oral Health, was endorsed by Isaac Navarro, DMD '08, Family HealthCare Network in Visalia, California.
"ATSU is proud to honor NACHC by investing in a scholarship fund for Hometown Scholars – students whose applications were endorsed by Health Centers based upon their compassion and commitment to the underserved," says Gary Cloud, PhD, vice president of university partnerships.
"Growing our own healers is a key strategy for building healthy communities, and Hometown Scholars engages CHCs  in identifying, mentoring and endorsing tomorrow's cadre of healers," said Ron Yee, MD, MBA, FAAFP, chief medical officer, NACHC. NACHC is delighted that ATSU has chosen to invest in this key scholarship fund."