Celebrate the A.T. Still Memorial Library's 100th anniversary
Posted: September 8, 2022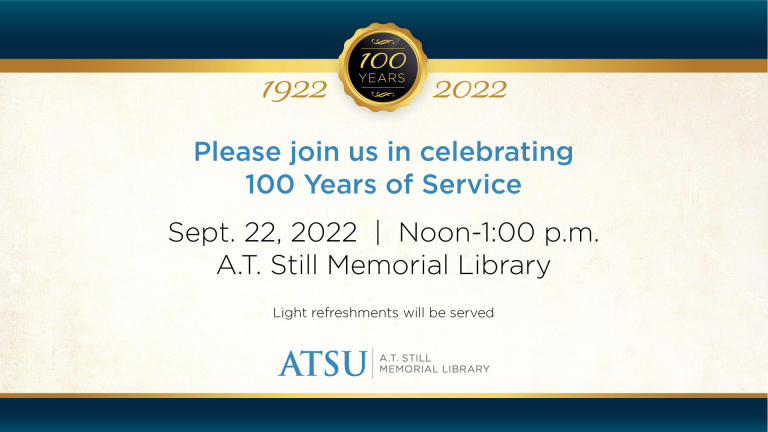 This year, the A.T. Still Memorial Library celebrates its 100th year of service to the A.T. Still University community. Founded in 1922, the library has now spent a century working with students and faculty to advance the osteopathic principles of whole person healthcare through research and education.
The first iteration of the library served the A.T. Still College of Osteopathy and Surgery (ASTCO), founded by A.T. Still's daughter and son-in-law. In 1924, the libraries of ASTCO and the American School of Osteopathy, a rival school of ASTCO, were combined when the two schools merged.
Over time, the library changed locations repeatedly, growing each time, as the campus changed and grew. By 1976, the library had grown to include 43,000 books, several hundred journals, and a variety of media and AV equipment. During this time it also expanded its services, including adding bibliographic search assistance in 1947, and interlibrary loan service in 1971, both of which remain important library services to this day.
Additionally, Medline was first made available to libraries in 1974, beginning the transition of the library to digital materials. Since then, the library has grown alongside ATSU. In 2002, the Arizona campus library opened in Mesa, and the California library opened in September 2021. Today, the library contains a vast amount of electronic resources that serve students and faculty on all three campuses, as well as our students spread across the country and the world.
If you want to know more about the history of the A.T. Still Memorial Library, check out our 100th Anniversary LibGuide, which contains a detailed timeline and historical photos.
Please join us on Thursday, Sept. 22 at 12:00 p.m. on the Arizona and Missouri campuses for a small celebration.