Belluomini receives Employee Excellence Award
Posted: June 24, 2013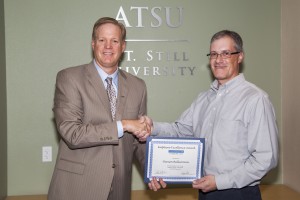 Congratulations to Darien Belluomini for receiving the Arizona Campus Employee Excellence Award for the first quarter of 2013. Belluomini is the senior administrative assistant in the Arizona School of Health Sciences' Dean's Office. He was recognized for his hard work and excellence by Dr. Jim Farris, chair of the Physical Therapy Department.
Dr. Farris stated "Darien's organizational skills, meticulous attention to detail, untiring efforts, and high level of self-directed initiative has been invaluable throughout the accreditation process. He went above and beyond to ensure the continued viability of the DPT program while still meeting the demands of his regular duties."
Darien received a photo with President Phelps and a $50 check.