ATSU's Student Occupational Therapy Association hosts volunteer day at local laundromat
Posted: September 28, 2023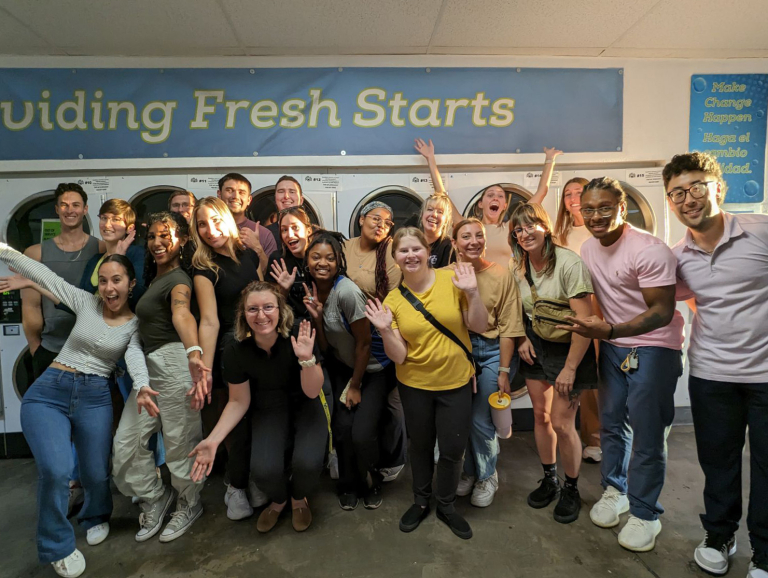 A.T. Still University's Student Occupational Therapy Association (SOTA) recently hosted a volunteer day at the Social Spin laundromat in Mesa, Arizona, where students strengthened their friendships with their classmates while giving back to their community.
The Social Spin laundromat isn't your average laundromat. Social Spin is a nonprofit foundation founded in 2021 that aims to build and strengthen the community through laundromats. Both the Mesa and Phoenix locations provide free laundry service weekly to those in need.
Providing simple services, such as free laundry, and a connection to community resources also provides dignity for individuals who may be unhoused and have struggled to find access to such services.
Second-year student and SOTA Vice President Jaclyn Rufrano, MSOT, '24, worked with Social Spin's director of care and partnership to coordinate the volunteer day, which consisted of a variety of activities to help the Mesa location.
Students from ATSU-ASHS' Occupational Therapy (OT) and Physical Therapy (PT) departments created affirmation cards, made PB&Js, hand-sewed laundry bags, washed, dried, and folded laundry, cleaned and reorganized the laundromat's library and pantry, and sorted through donated clothes. The week before, SOTA also held a food drive on campus, and brought all of the donated food items to the laundromat to restock their pantry.
"Our goal was to continue to build a relationship between the first- and second-year students, and just make a difference," Rufrano said.
"Something so simple as organizing a food drive can have a major impact on the individuals who utilize Social Spin's community pantry and fridge. I really tried to emphasize that we're all in school and many of us aren't working, but just picking up an extra item or two when we go to the grocery store can make the world of difference for some," Rufrano said.
Through volunteer activities such as these, SOTA also aims to help build and strengthen the relationship between first- and second-year students.
Rufrano explained, "As a student, it's easy to get hyper-focused on assignments and catching up on studying. As rewarding as it is to be a grad student, sometimes I have to remind myself that there's more to life than my academic performance. 

"Social Spin was a great way to get our cohort to take a step back from school, close our laptops, and just dedicate a few hours to community involvement. It's another important aspect of OT that we can often overlook when classes really start to pick up. I wanted to remind students that advocating takes all forms, and it can be so fun at the same time."