ATSU's PAL program providing much more than tutoring
Posted: March 14, 2023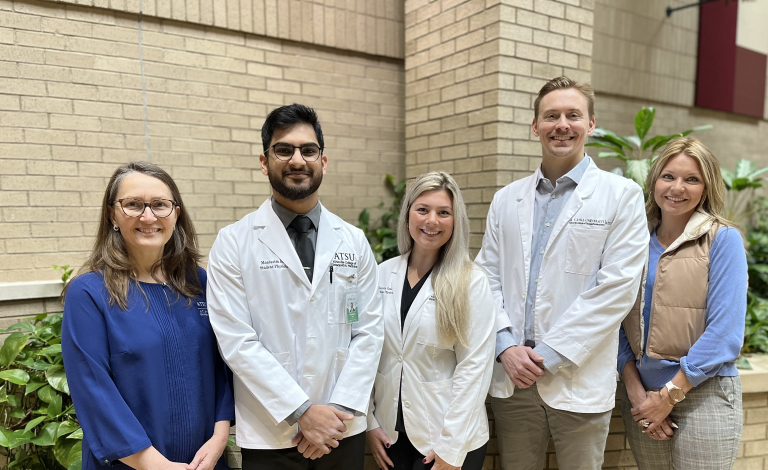 From left to right: Jennifer McNeely, MA, director, Learning Resources & Accommodation Services, ATSU-KCOM students Moatasim Baig, OMS II, Victoria Cantoral, OMS II, Jordan Erickson, OMS II, and Marcie Stansberry, MEA, learning specialist, PAL program supervisor.
Talk to one of the many second-year A.T. Still University (ATSU) students who work as tutors with ATSU's Peer-Assisted Learning (PAL) program, and you'll discover they all have one big thing in common – a passion for sharing knowledge with their peers.
"Everybody faces challenges. Life happens while you're a med student, and if we can be more specific in pinpointing areas to help students overcome those challenges, we want to do that," said Marcie Stansberry, MEA, learning specialist and supervisor of the PAL program.
The PAL program provides residential program students with free tutoring through individual, group, walk-in, and virtual sessions, which are led by student tutors, called PALs. Each PAL is a second-year student who has demonstrated academic success throughout their time at ATSU.
"You just learn so much during your first year of medical school, and then being a second-year student you realize all the pitfalls that made it so much more difficult," said ATSU-Kirksville College of Osteopathic Medicine (ATSU-KCOM) student and PAL Jordan Erickson, OMS II. 
"I really wanted to give some of that wisdom to the first years, so they didn't repeat a lot of the same mistakes I did, as far as bad study habits or over stressing about something that is really manageable. I just really wanted to pass it along," he added.
Like Erickson, ATSU-KCOM student Victoria Cantoral, OMS II, also felt as though the mistakes she made and struggles she faced during her first year influenced her decision to become a PAL. Not only that, Cantoral's experience as an out-of-state student had an impact as well.
"If you like to teach concepts, and you've been through hardships and came out successfully, then you should share those tips, because that was a lot of it for me," Cantoral said.
"Especially for someone who's not from the Midwest, adjusting to Kirksville in itself was a huge thing first year for me, on top of the lecture material. I think if you've overcome obstacles, you came out successfully, and you want to share that positivity and inspiration, then you should definitely go for it."
For many second-year students, being a PAL means so much more than providing this academic support.
ATSU-KCOM student Moatasim Baig, OMS II, explained, "A lot of times, students just want to know they're not alone, and that as first years, even for us, we struggled. My mentee comes in every week, and I feel like we're friends now. He just wants to hear that it'll be fine. He's seeking that emotional support, which I feel like a lot of medical school classmates don't have in their relationships, because it's so competitive."
By providing a non-judgemental outlet to talk about their struggles openly, in addition to their academic challenges, the PAL program serves as a safe space for all students, and can help first-year students feel less alone.
"It's more than just teaching or helping students come to understand the material, it's about the whole person, and being able to relate to their experience and their struggles," Stansberry said.
The PAL program is led by Learning Resources, and is active on each ATSU campus, with students from all programs participating and sharing their program-specific knowledge. Learning Resources also offers workshops throughout the year with different themes centered around improving learning and academic performance, such as classes on time management.
Not only does the PAL program have an impact on first-year students, but many second-year PALs feel as though they have grown through their time in the program.
"We're strengthening our knowledge from first year, all of those tedious biochemistry details and histology, but aside from that, I love this program because I feel like it's going to make me a better doctor for it. We're expert listeners at the end of the day. Sometimes students come in to just vent, they're stressed, they're tired, and I think it's really strengthening that aspect of healthcare that is so important for us going forward," Cantoral said.