ATSU's Doctor of Education in Health Professions program positions graduates for teaching success
Posted: March 7, 2022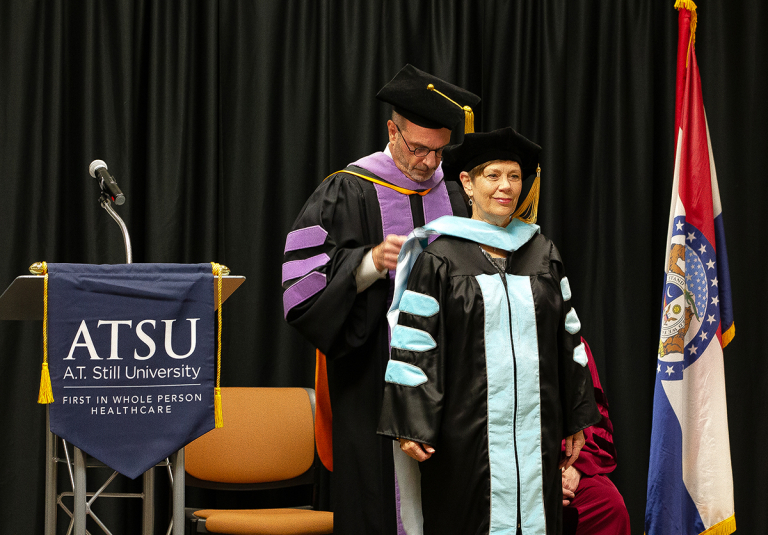 Carol Conley, EdD, MBA, BSN, '21, is hooded by ATSU-CGHS Dean Don Altman, DDS, DHSc, EdD, MPH, MBA, MA, during her Doctor of Education in Health Professions commencement ceremony.
Carol Conley had been teaching nursing courses at Cox College in Springfield, Missouri, for about eight years, and all the while knew she was missing something.
Conley already possessed a long career in nursing, amassing vast knowledge and expertise in the field, but had no formal education or training to be a health professions teacher.
"It was a hard learning curve," Conley said. "Although my mentors were very good, there came a point when I realized I had a pretty significant knowledge gap."
She scoured the internet for more than two years, looking for information on programs to address her needs, and kept coming back to A.T. Still University-College of Graduate Health Studies' (ATSU-CGHS) Doctor of Education in Health Professions program. 
"It sang to me," Conley said. "It was like, 'Here you are, teaching, with no formal education in the field, it's an education degree, and it's devoted to people who are health professions educators.' This program was amazing and it met my needs. We need nurses to be educated as health professions teachers."
In December 2021, fewer than three years after she began the program, she became Dr. Conley, EdD, MBA, BSN, '21. It marked yet another milestone in Dr. Conley's academic and professional career, the most impressive to date, and yet its magnitude cannot be fully measured without acknowledging another fact.
When Dr. Conley clicked "submit" on her ATSU-CGHS Doctor of Education in Health Professions application, she had just turned 60 years old.
"It's a big decision at that stage of your life to decide to go back to school," Dr. Conley said. "Every time I talked to someone about it they would say, 'Oh, absolutely, you're never too old to go back to school,' but I know when I walked away they would say, 'Is she kidding? What is she thinking?'"
But Dr. Conley knew exactly what she was after, gaining experience in areas she lacked to become a better health professions educator for future generations of nurses, and clearly identifying the return on investment through career advancement opportunities unlocked by a doctor of education in health professions degree after 40 years in nursing.
The Doctor of Education in Health Professions (EdD) program at ATSU-CGHS focuses specifically on developing health professions educators. Unique in its class, this online program involves practical experience-based teaching rather than research-based teaching. This prestigious health professions degree is designed for practicing clinicians, healthcare educators, leaders, and directors who desire to pursue their passion to teach.
As Dr. Conley can attest, the payoff for students comes quickly, and well before graduation day.
"When I entered the program, all of the things I was seeing in academia started to make sense to me. All of those areas that felt vague and confusing, the program was plugging the holes all the way along," she said. "Literally every course contributed to something that had been lacking in my knowledge base as a health professions teacher.
"As I went through each one of those courses, I was able to take that information and apply it to my teaching. I changed as an instructor as I grew in my knowledge."
With the nation's healthcare focus shifting toward preventive care and education, there is an increasing demand for qualified health educators that ATSU graduates can help fill as professors, directors of health education programs and community health services, and clinical educators.
Positioning students for superior career success, the healthcare education curriculum focuses on teaching health professionals how to educate others on their individual roles and responsibilities within healthcare delivery. Sharing their knowledge and experiences with others, graduates with this highly respected health education degree excel as leaders in the rapidly expanding field of health professions education.
"Now, I feel I have the credentials where people will listen to me," Dr. Conley said. "I have confidence in myself."
Dr. Conley received her degree during a special commencement ceremony in December 2021. She had been scheduled to graduate in Arizona with her classmates at ATSU-CGHS' commencement in spring 2022, but after sharing with her instructors that her husband was battling a life-ending disease, the University arranged an event for Dr. Conley's family and friends on its Kirksville, Missouri, campus six months early.
ATSU President Craig Phelps, DO, '84, along with Norman Gevitz, PhD, senior vice president-academic affairs, and Don Altman, DDS, DHSc, EdD, MPH, MBA, MA, ATSU-CGHS dean, participated and gave remarks, and the ceremony was live streamed so Dr. Conley's instructors and classmates could join from across the country.
"ATSU was a really amazing university for me to attend, and I was thoroughly impressed with the education I'd received, but nothing compares to the compassion and heartfelt outpouring I received from the top administration. That's the culture that permeates the entire University," Dr. Conley said.
"You have very memorable days in your life. My wedding, the birth of my children…and this graduation ranks right there. That was one of the most joyous days of my life."