ATSU-SOMA Student Ambassador Spotlight: Isabella Hobbs
Posted: May 3, 2022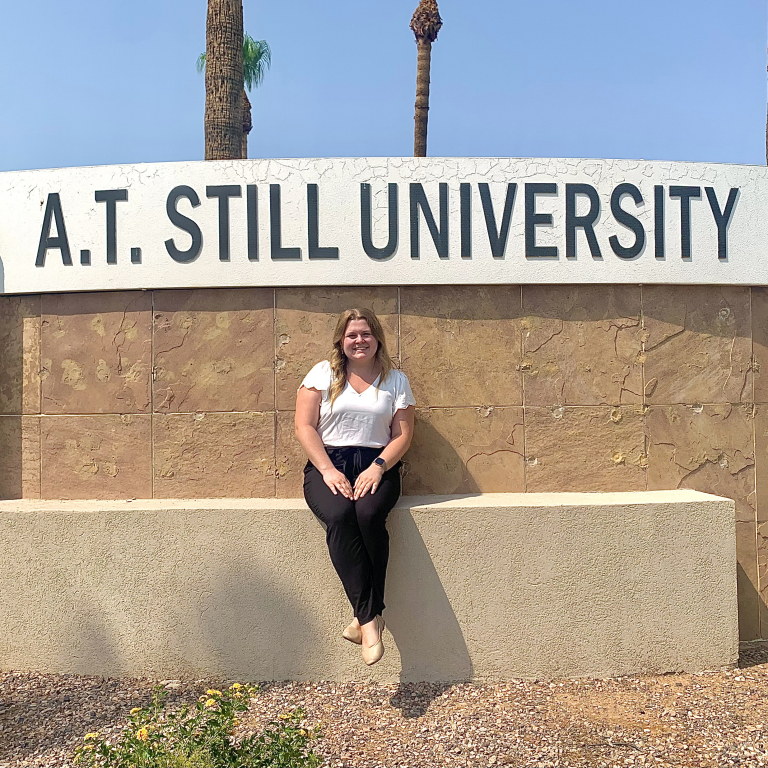 Isabella Hobbs, OMS I
Each month, A.T. Still University's (ATSU) Admissions Office in Mesa, Arizona, will select student ambassadors to recognize and showcase. Student ambassadors are ATSU students who speak and meet with prospective students. 
Isabella Hobbs, OMS I, is originally from Florence, Kentucky, and earned a bachelor of science in biomedical sciences with a minor in chemistry from Eastern Kentucky University.
Hobbs was part of ATSU's Hometown Scholars program and looks forward to working in her community following graduation. ATSU-SOMA also stood out to her because of the University's mission and the School's unique "1+3" model that puts students into community health centers beginning in their second year. 
Hobbs is enjoying her experience on ATSU-SOMA's Mesa, Arizona, campus.
"One of the things I enjoy about being an ATSU-SOMA student is the community among my class," Hobbs said. "It's a very collaborative and friendly environment. You feel like everyone has your back and wants to see you succeed."
Hobbs is a member of Student Government Association, serving as community outreach coordinator, and is secretary of both the American Medical Women's Association and Osteopathic Principle and Practice Club.
Hobbs became an ATSU-SOMA student ambassador to help prospective students get to know the School from a student's perspective.
"When I was applying to schools, I felt that talking with student representatives was one of the most helpful resources, so I wanted to help out students who are currently considering ATSU-SOMA," Hobbs said.
Outside of classes, Hobbs enjoys traveling, cooking, baking, and spending time with her dog, Almond.
Ultimately, Hobbs wants to specialize in emergency medicine and is interested in public health and working with harm reduction initiatives. She believes ATSU-SOMA is providing what she needs to pursue those goals.
"I've found support at ATSU-SOMA through extracurricular groups, as well as through the opportunity to expand my knowledge of public health through the DO/MPH program," Hobbs said.