ATSU hosts OTs in Pelvic Health Summit on Mesa, Arizona, campus
Posted: September 5, 2023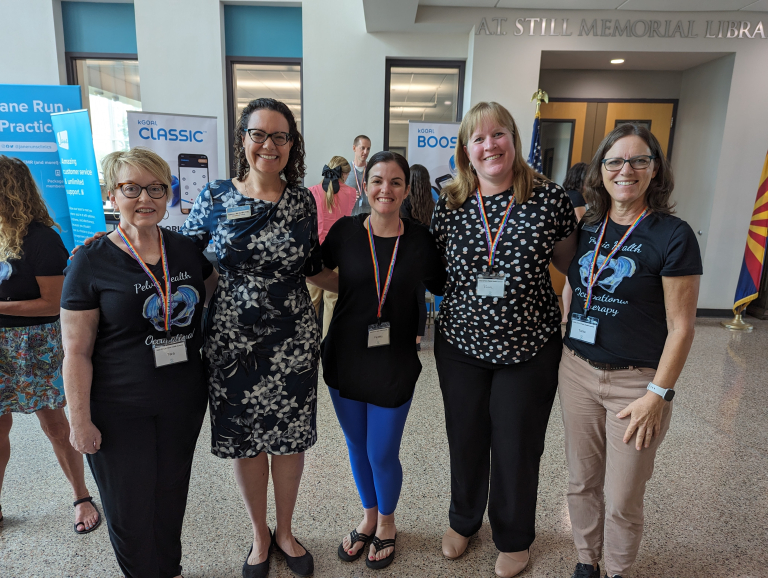 A.T. Still University-Arizona School of Health Sciences (ATSU-ASHS) Occupational Therapy (OT) department recently hosted the 2023 OTs in Pelvic Health Summit on the University's Mesa, Arizona, campus, where occupational therapists from around the country gathered together to learn about the speciality, grow their skills, and network.
This two-day summit, which took place Aug. 19-20, was organized by The Functional Pelvis, an OT practice that specializes in pelvic floor rehabilitation. In addition, ATSU-ASHS OT department assistant professor and director of curriculum, Tania Shearon, DHSc, OTR/L, CHT, C-IAYT, and third-year student Rebecca Downs, OTD, '24, assisted in part of the summit's planning.
"It was fabulous," Dr. Shearon said. "There were speakers from all over the country. They had over 100 in-person guests."
Representatives from the American Occupational Therapy Association (AOTA) attended the event, including Alyson Stover, MOT, JD, OTR/L, BCP, president of the AOTA, and Charles Jeffers, interim executive director. In addition, Arizona Occupational Therapy Association (ArizOTA) President Heidi Carpenter, OTD, OTR/L, attended as well.
Faculty members from ATSU-ASHS' OT department, Physical Therapy department, and Athletic Training department also had the opportunity to attend, creating more spaces for interprofessional collaboration and conversation among attendees.
Historically, OTs have been less involved in the pelvic health speciality, but in recent years have become more involved, making their mark as leaders in the speciality.
"I think it gives us exposure as an OT department that really is trying to foster emerging areas of practice and ways that OT can be present where maybe traditionally they were not," Dr. Shearon said.
"My favorite part was hearing well-known physical therapy therapists in the pelvic health field state how important OTs role is and how our lens contributes to the team and the overall health of the patients and clients that need services."