ATSU cuts ribbon on Dan Martin Court
Posted: October 15, 2021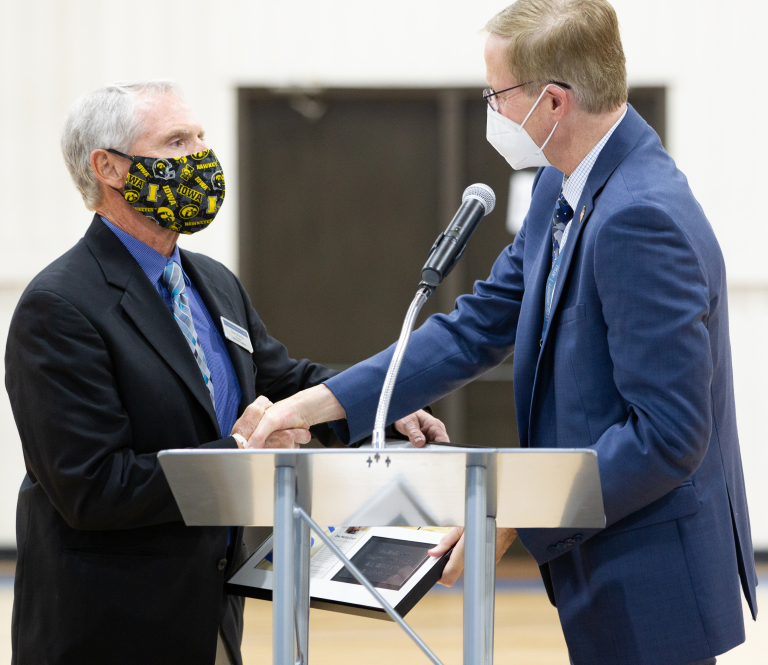 A.T. Still University President Craig Phelps, DO, '84, shakes hands with Dan Martin, MA, Thompson Campus Center director, at a ceremony dedicating the facility's basketball court in Martin's honor.
What started as a hope nearly four decades ago is now a reality – with a personalized touch – at A.T. Still University's (ATSU) Thompson Campus Center (TCC) in Kirksville, Missouri.
ATSU cut the ribbon Friday, Oct. 8, 2021, on Dan Martin Court, a new hardwood gymnasium floor which serves as a centerpiece to the TCC. The court was finished in 2020, but due to the pandemic was not celebrated until a ceremony during Founder's Day festivities.
Back in 1982, when the facility first opened, Dan Martin, MA, TCC director, was new to his role and had gotten to know ATSU-Kirksville College of Osteopathic Medicine student Craig Phelps, DO, '84, now ATSU's president, fairly well. As the finishing touches were applied to the facility, both lamented the gymnasium floor was a rubberized surface, rather than hardwood. But costs had to be controlled, and the hardwood floor was placed in the "tomorrow" file.
When Dr. Phelps became ATSU president in 2012, the file was dusted off and opened again. Improvements were made to the TCC in several phases, but funding was still an issue when it came to a hardwood basketball court. That's when an idea emerged to name it in honor of Martin, and the dollars flooded in from grateful alumni, faculty, staff, and friends who had been beneficiaries of Martin's positive influence over the last 39 years.
"We didn't have much of a problem when we went to alumni and said, 'We'd like to do something for Dan,'" Dr. Phelps said. "They were tripping over themselves. Even folks no longer living in the immediate area said, 'For Dan, we want to be a part and we want to participate.'"
ATSU University Advancement led a campaign which received more than 200 gifts from 182 donors, raising $321,878.63 for TCC improvements, including the newly minted Dan Martin Court. A donor plaque, recognizing all those who gifted $1,000 or more, is now on permanent display at the court's entrance.
Another plaque at the entrance honors Martin himself, and highlights the words "compassion, integrity, and ability."
"Those words appearing over the entrance are descriptive of the values we promote at ATSU, and they're the embodiment of our friend and colleague, Dan Martin," Dr. Phelps said.
Martin expressed gratitude to his family, including his wife, Becky, and daughter, Abby, and the entire University community, past and present, recalling the hardwood floor had long been a vision for "tomorrow."
"Tomorrow is today, and that is fantastic," he said. "I thank KCOM for hiring me and ATSU for the tremendous opportunity that I've been given to be part of this school you all went to that I love so dearly. I'm grateful for the students, the employees, the administration, and the very, very meaningful, collegial friendships I've developed."
In remarks read by Dr. Phelps, ATSU Board of Trustees Chair Linnette Sells, DO, FAOASM, '82, called the recognition well earned.
"It is not only a compliment for the past but a reflection upon the future. Your excellent and selfless work with students, staff, and the community speaks to your strength and dedication," Dr. Sells said. "On behalf of myself and the ATSU Board of Trustees, we hope this honor provides you a small measure of our gratitude and highest esteem for your strength, dedication, and leadership."
Additionally, Martin, a leader in the Kirksville community, was honored by the City of Kirksville, with Mayor Zac Burden issuing a proclamation naming Oct. 8, 2021, as "Dan Martin Health and Fitness Day."
"Dan, you are a true asset to this community. We are a better, kinder, healthier, more engaged community because of everything that you have brought to us," Burden said.
Donors listed on the plaque are: In Memory of Frederick V. Hrachovina, DO, '56; Drs. Christopher Weyer, '06, and Jamie Moenster, '05; Drs. Kelly Van Fossen, DO, '04, and Duke Matsuyama, DO, '03; Dr. Gary,'67, and Toni Sattman; Dr. David, '06, and Alicia Fife; Dr. Craig, '84, Stacy and Zach Phelps; Dr. David, '03, and Wendy Kelley; Dr. Scott, '04, and Mrs. Reisha Grupas; Dr. Andrew, '79, & Mary Zazaian; Teget Foundation; Drs. Andrew, '92, and Dawn Tartaglione; Drs. Tod and Karen Sylvara, '91; Dr. Russell, '04, and Michelle Sharpswain; Drs. Linnette Sells, '82, and Brian Vanderhoof, '90; Randy and Diane Rogers; Dr. James, '88, and Ann Meyer; Dr. Dale, '02, and Amy Lee; Dr. Derek, '99, & Jennifer Korte; Drs. Russell and Mary Kennedy, '98; Dr. William, '69, and Maggie Gerchick; Dr. Melinda, '02, and Josh Ford; Dr. Thanh, '98, and Hayley Do; Dr. Richard Crank, '04; Drs. Lloyd, '76, David, '06, Jonathan, '08, and Nathan, '10 Cleaver; Dr. Jeffrey, '98, and Shanda Bytomski; Bob and Michele Behnen; Bob Basham & Jane Kieler; Dr. Rebecca D. Bartee, '91, and Ms. Synthia H. Deese.