ATSU-KCOM alumna Dr. Salyer delivers Founder's Day Osteopathic Lecture
Posted: October 12, 2021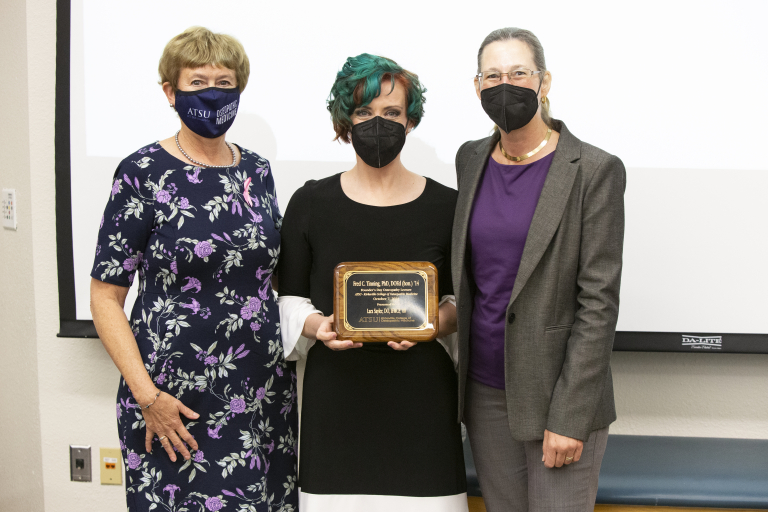 ATSU-KCOM alumna Lara Salyer, DO, IFMCP, '00, delivered the annual Fred C. Tinning, PhD, DOEd (hon.), '14, Founder's Day Osteopathic Lecture. Dr. Salyer, center, is pictured with ATSU-KCOM Dean Margaret Wilson, DO, '82, and Assistant Dean Karen Snider, DO, FAAO, FNAOME.
A.T. Still University's (ATSU) 2021 Founder's Day celebration was highlighted by the annual Fred C. Tinning, PhD, DOEd (hon.), '14, Founder's Day Osteopathic Lecture, delivered by ATSU-Kirksville College of Osteopathic Medicine (ATSU-KCOM) alumna Lara Salyer, DO, IFMCP, '00.
Dr. Salyer's lecture was titled "Prescribing Creativity: How the 6th Vital Sign Can Re-Energize Your Day, Decrease Stress and Make Work Fun Again." Video of the lecture can be viewed below.
Dr. Salyer described her own struggles with burnout 15 years into her career as a rural family medicine physician. She helped herself through it with a regimen of painting, drawing, and running, with the regular dose of neurochemical flow state resulting in improved autonomy, well-being, and decreased stress.
It culminated in her decision to resign from her employed position and open a holistic membership practice after certifying with the Institute for Functional Medicine. In her private practice, she leverages technology to build a cohesive tribe of wellness in her local community through innovative group medical visits, online health education, as well as individual services.
Dr. Salyer speaks across the globe on her mission to teach 1 million health professionals
how to tap into creative flow daily so they can reclaim autonomy, improve happiness, and eradicate burnout.
She authored her own memoir, "Right Brain Rescue: One physician's journey from burnout to bliss reveals the creative muse in all of us," available on Amazon.
In 2009, the late Dr. Tinning and his late wife, Janet, created an endowment at ATSU-KCOM to provide the annual lecture on osteopathy during Founder's Day. Dr. and Mrs. Tinning established the Fred C. Tinning, PhD, DOEd (hon.) '14, President Emeritus, Founder's Day Osteopathy Lecture Endowment because of their strong belief in perpetuating the importance of osteopathic principles and practices.
The purpose of the Tinning Osteopathy Lecture Endowment is to provide a perpetual source of income that will sponsor a lecture by a nationally recognized expert on neuromusculoskeletal medicine/osteopathic manipulative medicine. The lecture is presented to ATSU-KCOM students, faculty, staff, and alumni as part of Founder's Day activities.
The osteopathy lecture – formerly known as the Scott Memorial Lecture, which was sponsored and funded by the American Academy of Osteopathy and delivered at ATSU-KCOM – will continue to be funded by the Tinning Endowment.
Dr. Tinning was the eighth president of ATSU-KCOM, serving in that capacity from 1984-96. Because of his exceptional service to the University, ATSU's Board of Trustees named the Tinning Education Center building on the Kirksville, Missouri, campus in his honor, and in 2014, awarded him the doctor of osteopathic education honorary degree.
Dr. and Mrs. Tinning resided in Lansing, Michigan.