ATSU-CHC students volunteer, connect with community at health fairs
Posted: August 24, 2023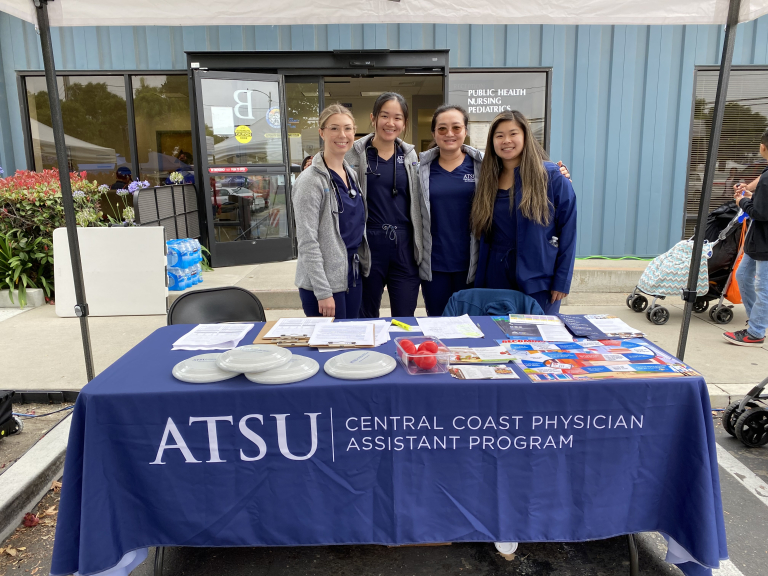 Students from A.T. Still University's College for Healthy Communities (ATSU-CHC) are making their mark on the community through their participation in community health fair events throughout the Santa Maria area.
Central Coast Physician Assistant (CCPA) program students volunteered at the Santa Maria Back to School Health Fair on Aug. 8 and the Lompoc Back to School Health Fair on Aug. 10, which were hosted by the Santa Barbara County Public Health Department. They had the opportunity to assist in providing free walk-in sports physicals to the community by helping the Santa Barbara County Public Health clinic workers collect vital signs.
In addition to providing care, students were able to advocate for the PA profession and the CCPA program through educational flyers and talking with members of the local community.
"Our PA students love to volunteer and give back to the community, they are always looking for opportunities to serve," said Cristina Tipei, MSPAS, PA-C, assistant professor, adding, "We believe our PA students will not only be wonderful providers to their patients, but have the heart to give back to their community and we are very proud of them."
CCPA students have been hard at work volunteering in other areas of the community, including their recent organization of a blood drive in partnership with Vitalant, and with various other organizations in Santa Maria.
"We are incredibly thankful and honored for the opportunity as Student Government community outreach coordinators to work with our classmates and faculty to serve the communities in and around the Santa Maria area," said second-year students Audrey Chen, PA, '24, and Jackie Blanco, PA, '24, who serve as the CCPA program's community outreach co-chairs.
They explained that as PA students, they value and learn from these opportunities and experiences as many students in the program share diverse backgrounds.
"Through these outreach events, I have had the privilege of interacting with the community in my native language of Spanish. It has been wonderful to fully immerse ourselves in different cultures. Our class's involvement and exposure to the diverse community continue to shape us into better providers," Blanco said.
Through all of these volunteer activities, students have promoted and educated the community on the CCPA program, while continuing to champion ATSU's mission and commitment to serving the underserved.