ATSU-CGHS DHSc alumnus helping to promote public health through fellowship at CDC
Posted: April 26, 2023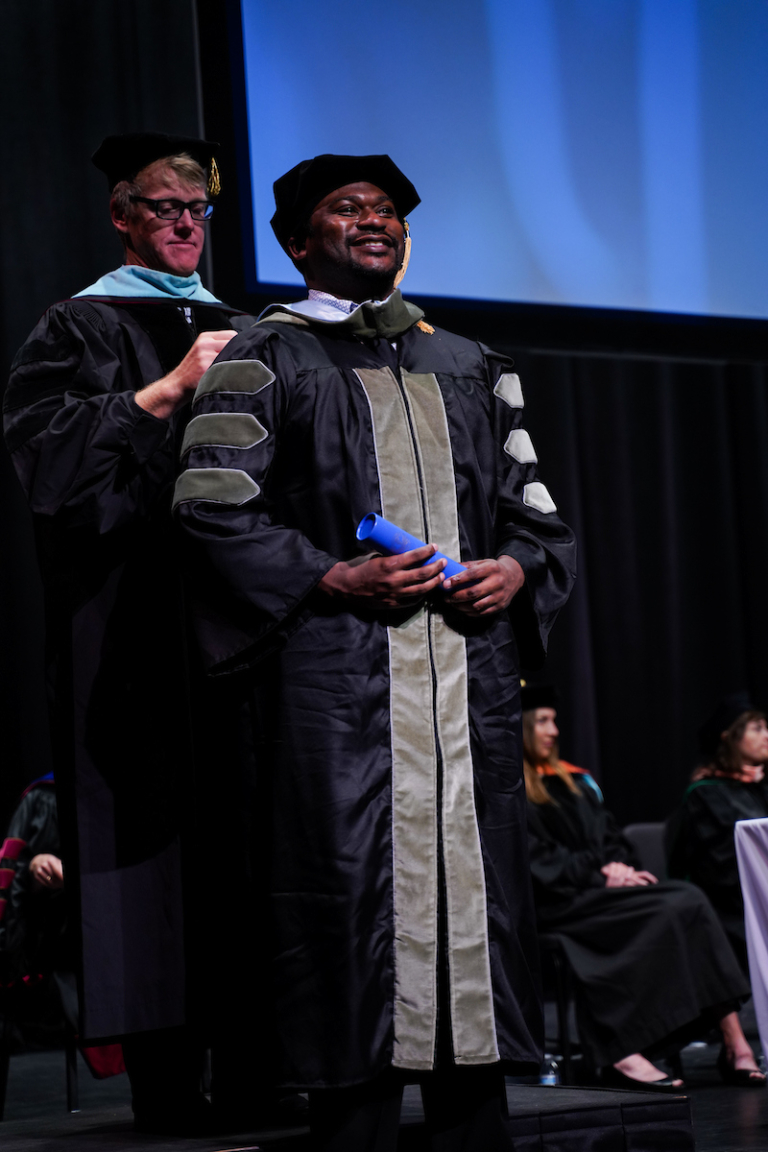 When A.T. Still University-College of Graduate Health Studies (ATSU-CGHS) Doctor of Health Sciences (DHSc) online program student Reginald "Reggie" Jones, DHSc, '22, MPH, first decided to further his education, he never expected to find himself in public health. 
But today, as a fellow at the Centers for Disease Control and Prevention (CDC), Dr. Jones is looking forward to helping shape the future of public health globally.
"I don't really have a traditional upbringing in public health. I started my career in banking. I started as a part-time teller and worked my way up to branch manager," Dr. Jones said. "I really wanted a career where I could actually make a difference and help people."
After receiving a bachelor of science in business administration from the University of Missouri-St. Louis, Dr. Jones began pursuing a master of business administration degree, but instead discovered a newfound passion for public health and made the decision to switch paths.
Following the completion of a master of public health degree from the University of Missouri-Columbia, Dr. Jones decided to continue furthering his education but was unsure exactly which programs to look into.
"I actually had a coworker, when I worked at Cross Country Healthcare, her name was Kathryn Cook, DHSc, '16, and she had just completed the DHSc program at ATSU. I had been talking with her about wanting to continue my education, and she really encouraged me to pursue the program," he said.
With this encouragement and information from Dr. Cook, Dr. Jones enrolled in ATSU-CGHS' DHSc program with a concentration in leadership and organizational behavior, and graduated in May 2022.
The DHSc program is designed to prepare students for upper-level positions in healthcare and academia. The program offers four concentration areas: global health, leadership and organizational behavior, fundamentals of education, or generalist concentration.
Through the program's fully online curriculum, Dr. Cook was able to continue to thrive in his professional career while also obtaining his degree, which had a big impact on his decision to enroll.
"If you're considering it, just reach out to someone that's already been in the program," he said of his decision, adding, "I think that's one of the things that helped sway me."
The degree is a unique approach to doctorate level health education and interdisciplinary scholarship, with a curriculum focusing on project management, decision-making, and organizational leadership skills.
In September 2022, Dr. Jones became a public health fellow with the Center for Global Health (CGH) at the CDC in Atlanta, and is thankful for the knowledge gained in the DHSc program that helped bring him here. 
"The program really taught me real world strategic thinking, relationship building, cultural awareness, and really, by completing this program, it made me a really strong candidate for the fellowship," he said.
As a fellow, Dr. Jones serves as a public health analyst with CGH's Overseas Operations Office (OOO). His work focuses on the CDC's 60-plus overseas offices and workforce.
"One of the projects I'm working on is looking at staffing trends overseas, making sure that the locally employed staff have all the resources they need. We are in the process of piloting a diplomacy force for people that are going overseas for the first time making sure they have all the dos and the don'ts of working abroad," he said.
Dr. Jones' work at the CDC will also take him overseas, including an upcoming trip to Dar es Salaam, Tanzania in April, where he will help to coordinate regional training.
"I really would want to continue on with the CDC. I want to eventually get into disease intervention, in an intervention specialist type role, or epidemiology," Dr. Jones said of his plans after completion of the fellowship, adding, "I'd love to continue working globally, if possible."