ATSU-ASHS students host Senior Spa Day at local memory care home
Posted: May 10, 2023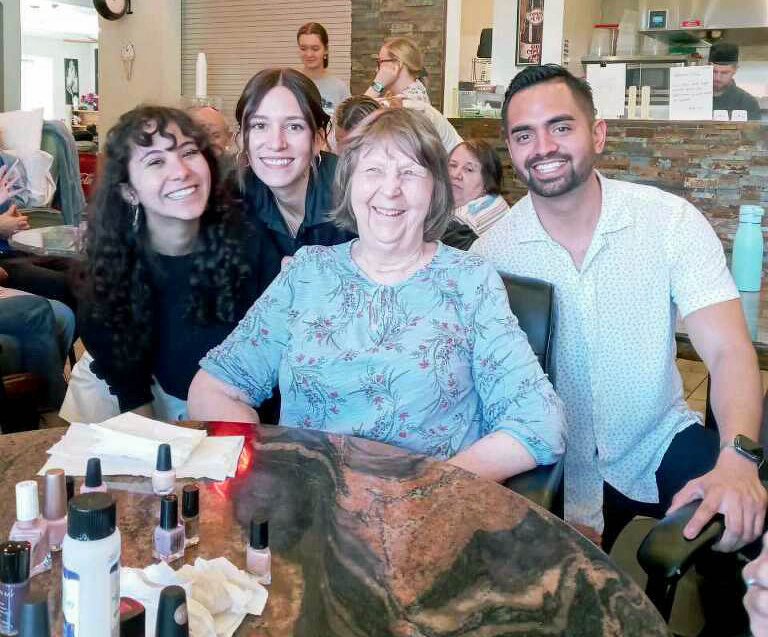 A.T. Still University's Student Occupational Therapy Association (SOTA) recently held a senior spa day at Emerald Glen Assisted Living in Mesa, Arizona, where they provided residents with manicures and hand massages while forging closer connections within the community. 
Organized by ATSU-SOTA Vice President Jaclyn Rufrano, MSOT, '24, this volunteer activity included students from both the ATSU-Arizona School of Health Sciences' (ATSU-ASHS) Occupational Therapy (OT) and Physical Therapy (PT) programs. 
"This is one of the experiences of seeing the direct impact of what you can do," Rufrano said. "Because a lot of it is in the classroom, and you're hearing about how great it's going to be, but it's a different thing when you get out into the community and you actually get to put those techniques you learned into practice. It's good exposure for all of us for our field work."
After arriving at the memory care community, both students and residents were initially nervous to spend the next few hours together. But after the nail polish came out and the socializing began, the spa day turned into a fun, relaxing experience for everyone.
Rufrano said, "It was really cool to see the shoulders drop, of both the residents and my classmates. Everyone said, 'Oh my gosh, this isn't scary. It's not scary to do these things and get out of your comfort zone.'
"It was just very rewarding to see someone smile and ask if you're coming back and thank you again," she added. "It was the fact that someone came to spend time with you and look you in the eyes and have a conversation."
The goal of this volunteer activity was not only to provide self-care services to seniors, but to spend time and build closer connections with seniors who may otherwise not have as much social interaction.
In preparation for the spa day, Adam Story, PT, DPT, OTR/L, OTD, MTC, assistant professor, OT, taught a therapeutic hand massage crash course, in which students learned a basic overview of hand massage techniques before putting them to the test with the residents.
"We were so crammed with exams, and we were like, you know what, Friday after the exam let's do it. He was really great, he had pre-prepared some paperwork that had tips and all that. Then he basically showed us the techniques. We all had lotion at our little tables and we buddied up to practice on each other," Rufrano said.
This example of interprofessional service demonstrates the University's community outreach mission to serve the underserved and provides students with an opportunity to make a difference in their community, even before beginning their careers as healthcare professionals.
"I just want people to understand how important it is to be well-rounded, and how you might surprise yourself. I'm the biggest advocate for if a volunteer opportunity presents itself, say yes, because you never know what you're going to learn. You can learn from anyone and everyone," Rufrano said. "Some of us definitely found some friends in that home that we hope to see again, so it's a beautiful thing in that way."