ATSU-ASHS' Speech-Language Pathology program holds ribbon cutting ceremony
Posted: August 24, 2022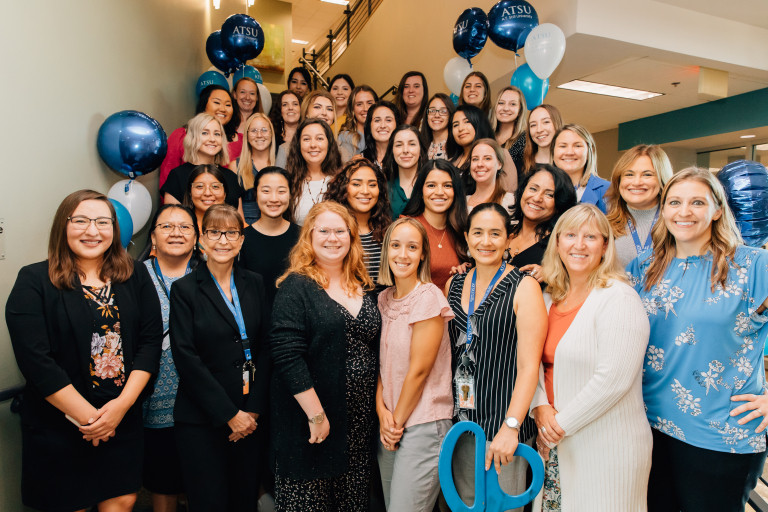 Attendees of the A.T. Still University-Arizona School of Health Sciences' (ATSU-ASHS) Master of Science in Speech-Language Pathology program ribbon-cutting ceremony included the inaugural group of students.
The A.T. Still University-Arizona School of Health Sciences' (ATSU-ASHS) Master of Science in Speech-Language Pathology program officially welcomed its first students with a ribbon-cutting ceremony on July 14.
Students, faculty, and staff gathered on the Mesa, Arizona, campus to celebrate the launch of this new program, which was designed to prepare students for working with individuals with speech, language, and swallowing disorders, with an emphasis on educating bilingual speech-language pathologists.
Ann Lee Burch, PT, MPH, EdD, and ATSU-ASHS dean, thanked ATSU President Craig Phelps, DO, '84, for his support of the Speech-Language Pathology Program. She welcomed the students, speaking of the importance of celebrating the new program and milestone for ATSU-ASHS.
"The program seeks to prepare you to provide culturally responsive care to meet the needs of a diverse population that you will encounter," Marlene Salas-Provance, PhD, MHA, CCC-SLP and vice dean, explained. She thanked Dr. Burch for envisioning this new program over five years ago and for her unwavering support through its receipt of candidacy and matriculation of students.
"You have an innovative and challenging program that is going to make you stand out among speech-language pathologists," said Tabitha Parent-Buck, AuD, professor and department chair.
"This is just the beginning. We're planning to keep growing," said program director María A. Centeno-Vázquez, PhD, CCC-SLP, BCS, speaking on her aspirations for the program. She welcomed Speech-Language Pathology program faculty members Beatriz Barragan, PhD, Ivonne Maldonado De la Rosa, PhD, CCC-SLP, Lourdes Martinez-Nieto, PhD, and Christine Vining, PhD, CCC-SLP, director of clinical education, and also administrative assistant Robin Tritt.
Students in this program will be immersed in a curriculum that is innovative and progressive, with courses in telepractice, autism, alternative and augmentative communication, language disorders in children and adults, and evidence-based research practices.
Dr. Phelps shared the legacy of A.T. Still, DO, and the importance of mind, body, and spirit in the profession of speech-language pathology.
The inaugural group of students will complete their two years of coursework and clinical rotations and graduate in 2024.