ATSU and Mesa Fire and Medical Department announce unique collaboration
Posted: November 21, 2013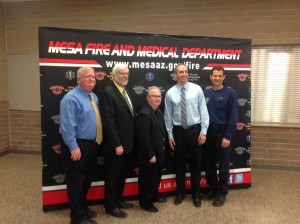 ATSU's Physical Therapy Program and the Mesa Fire and Medical Department (MFMD) have implemented a unique collaboration in an effort to decrease injuries among the Mesa fire force. Doctor of physical therapy students and physical therapy faculty will monitor, evaluate, and correct movement patterns of various fire ground activities.
Students work directly with firefighter recruits by providing functional movement screenings, joint mobility assessment and occasional opportunities for private consultations regarding aches, pains, and muscle or body functions.
"Students have the opportunity to develop a better understanding of working with the industrial athlete," said Cory Manton, DPT, assistant professor, ATSU's Arizona School of Health Sciences. "They will learn first-hand about the physical demands of being a firefighter and how those demands impact the musculoskeletal system."
This continued collaboration—unique to Arizona—also supports the City of Mesa's goal of utilizing public and private partnerships to enhance service delivery to both our internal and external customers. This collaboration supports the city's "HEAT" initiative, which stands for healthcare, education, aerospace, tourism, and technology.
James Johnson, MFMD captain, says the ultimate goal is to decrease injuries as well as the loss of time and expenditures associated with injuries.
Dr. Manton says a significant highlight of this partnership is that students gain hands-on experience working with their local public safety organizations. "Students are actively training these men and women to adopt more-efficient movement patterns to decrease the risk of injury."