Athletic training reception held during NATA Annual Meeting
Posted: July 7, 2016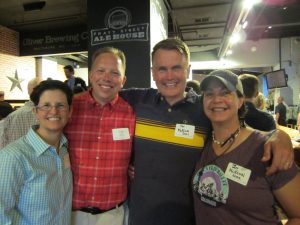 Alumni, students, and friends joined ATSU-ASHS Dean Randy Danielsen, PhD, PA, DFAAPA, Eric Sauers, PhD, ATC, '97, FNATA, department of interdisciplinary health sciences chair, and Tamara McLeod, PhD, ATC, FNATA, athletic training program director, in Baltimore for a special reception held amid NATA's Annual Meeting. Below is a summary of the updates shared:
Thank you to all alumni, students, and faculty who have made ASHS what it is today. ASHS is the largest ATSU school/college, with more than 1,000 residential and online students and 80 faculty.
ASHS recently celebrated the one-year anniversary of the DAT program, and appreciates the help of alumni in its growth and success. We will have nearly 90 students in July, and look forward to our first class of graduates joining the alumni family next summer.
Both Dr. Sauers and Dr. McLeod were recognized by NATA as 2016 Most Distinguished Athletic Trainer award recipients last week. For more updates and news from the AT programs, please look at the latest issue of the AT alumni newsletter.
Alumni, student, and faculty support of the Dwight Patterson Youth Sports Scholarship is greatly appreciated and does not go unnoticed. The scholarship recognizes master's students who have gone above and beyond for youth athletes. To learn more or to contribute to the scholarship, please visit the Dwight Patterson Youth Sports Scholarship page.
To view photos from the event, please visit the Alumni Facebook page.