Welcome to ATSU: New members named to Board of Trustees
Posted: December 14, 2016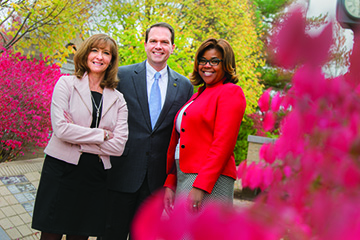 Michelle L. McClure, PhD, MACity: St. Louis, Missouri
Education: Truman State University and Indiana University
Background: Dr. McClure serves as associate provost for academic affairs/dean of graduate and professional studies at Harris-Stowe University, where she has also served as assistant vice president for academic affairs since 2006. She is a peer reviewer for the Higher Learning Commission and a member of the NCATE/CAEP Board of Examiners. Her professional associations include the Association for the Study of Higher Education and American College Personnel Association. In 2010, she received the St. Louis American Salute to Excellence in Education award.
Joseph A. "Jay" Morgan, PhD

City: Frankfort, Kentucky
Education: Murray State University and Oklahoma State University
Background: Dr. Morgan serves as chief academic officer and vice president of academic affairs/student success for the Kentucky
Council on Postsecondary Education. In addition to ATSU's board, he serves on the Board of Trustees for the Southern Association of
Colleges and Schools Commission on Colleges and the Kentucky Teachers Retirement System. He formerly served as provost for Murray
State University.
Linnette Sells, DO, FAOASM, '82

City: Alpharetta, Georgia
Education: Truman State University and ATSU-KCOM
Background: Dr. Sells serves as a staff physician for Piedmont Urgent Care in Alpharetta and as a team physician for Georgia Tech in
Atlanta. She is a member of the American Osteopathic Association and American College of Osteopathic Family Physicians and is a past
president of the American Osteopathic Academy of Sports Medicine. Through her service in the U.S. Air Force, she is a veteran of
Operation Desert Storm. In addition, she is a former associate professor for ATSU-KCOM and former president for the ATSU-KCOM
Alumni Board.