Summer Healthcare Career Experience for Missouri students
Posted: July 7, 2015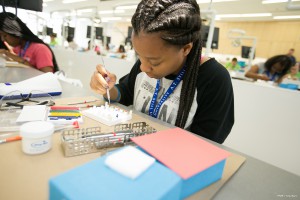 A.T. Still University (ATSU), Truman State University, and East Central Missouri Area Health Education Center (ECMO AHEC) partnered together to provide a Summer Healthcare Career Experience (SHCE) for students interested in healthcare as a future profession. The inaugural event was a three-day, two-night program and involved hands-on activities at both ATSU and Truman State University.
High school students from four different schools were represented – Cardinal Ritter College Prep High School, Collegiate School of Medicine and Bioscience, Hazelwood East High School, and Ladue Horton Watkins High School. The goal of SHCE is to provide the opportunity for participants to gain perspectives and experience in health professions.
"This was a great opportunity to show these kids from St. Louis that they have two terrific resources in Kirksville for their education. We hope to make this an annual event and provide high school students a chance to see what Kirksville, ATSU and Truman State have to offer," said ATSU Assistant Vice President of Admissions Dave Koenecke, DC, MEd.
The students experienced a plethora of activities at both ATSU and Truman State University. At ATSU, they were able to partake in dental simulation lab activities with relation to basic oral exams. In addition to activities pertaining to oral health, students also engaged in basic life support exercises, ultrasound lab activities, and osteopathic manipulative medicine demonstrations.
At Truman State University, students attended a bandaging bracing clinic for athletic training purposes and also workshopped nursing and exercise science techniques.
ATSU, Truman State University, and ECMO AHEC will continue to work together annually to provide the Summer Healthcare Career Experience for students interested in health professions.