Students unite to celebrate interprofessional collaboration
Posted: November 11, 2015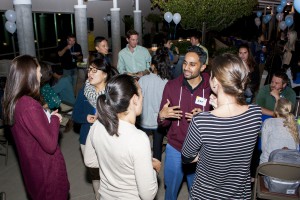 It was all about interprofessional collaboration for students who gathered during the inaugural Falls Mixer event on the Mesa campus Friday, Nov. 6. More than 60 students from A.T. Still University's (ATSU) Arizona School of Health Sciences (ASHS), School of Osteopathic Medicine in Arizona (SOMA) and Arizona School of Dentistry & Oral Health (ASDOH), came together to celebrate interprofessional education and the upcoming Still Standing Falls Prevention Outreach.
The event was held to promote the formation of interdisciplinary teams who are gearing up for the 2016 outreach, which is a community health education program aimed at helping elders prevent falls and address their fear of falling. Outreach is also an essential opportunity for students to work in interdisciplinary teams. Nearly 70 student teams comprised of different health professions programs will fan the Valley to teach the eight-week Still Standing course to hundreds of older adults at more than 70 medical centers, rehabilitative facilities, and retirement homes and communities.
Students also heard from special guest speakers including ATSU-ASHS dean Randy Danielsen, PhD, PA-C, Babak Nayeri, ND, FACFE, DAAPM, executive consultant, Healthy Aging, Arizona Department of Health Services, and Karen Richards, RN, MBA, of Blue Cross Blue Shield of Arizona. Dr. Nayeri and Richards spoke to students about the importance of falls prevention education in the community.