Still Living the Mission: Raven Burrell & Quotasze Williams
Posted: October 31, 2022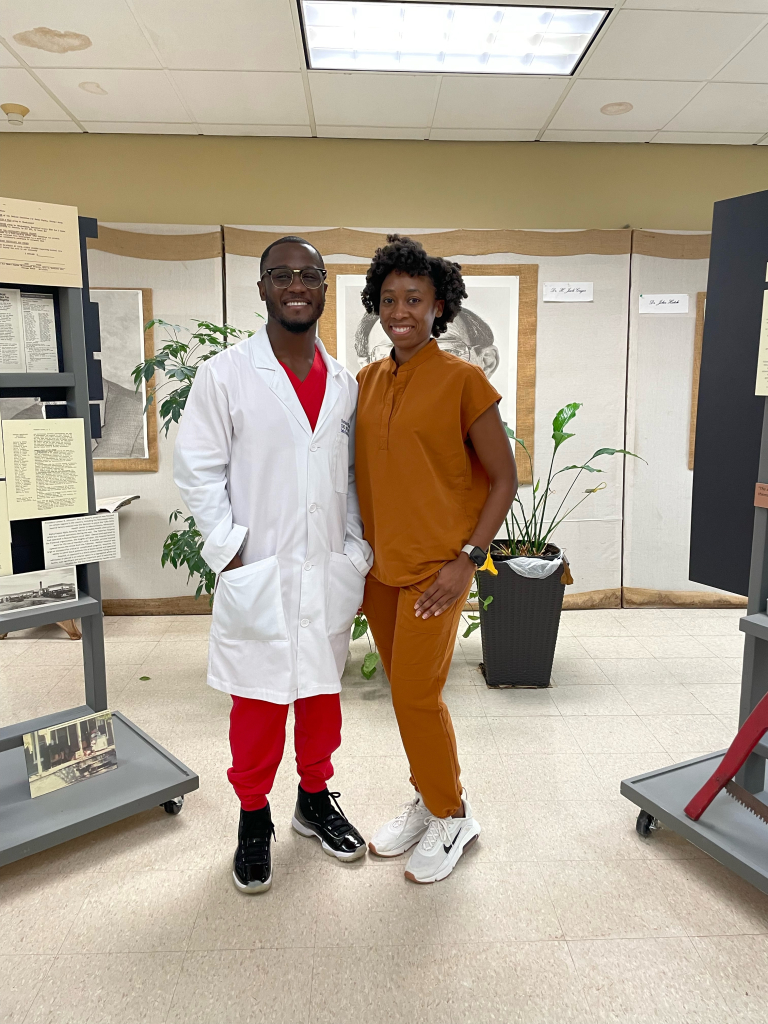 Quotasze Williams, DMD, '22, MPH, MHS, and Raven Burrell, PA-C, '20, MSPAS, MPH, CPH.
Two A.T. Still University alumni with a passion for serving the underserved are helping to provide equitable healthcare at the Delta Health Center in rural Mound Bayou, Mississippi.
ATSU-Arizona School of Dentistry & Oral Health graduate Quotasze Williams, DMD, '22, MPH, MHS, and ATSU-Arizona School of Health Sciences graduate Raven Burrell, PA-C, '20, MSPAS, MPH, CPH, both began working at the center on Aug. 1, 2022, where Burrell works as an OB-GYN physician assistant (PA) and Dr. Williams provides general dentistry services.
"Working in underserved communities requires multidisciplinary interaction. We as providers are not just their medical providers, we're their counselors, we're sometimes even their friends. We play multiple roles," Burrell said.
The Delta Health Center is the first Federally Qualified Health Center in the United States. The center provides comprehensive healthcare services for vulnerable populations in the Mississippi Delta and offers a wide range of health services, from pediatric care to women's health.
For Burrell, whose background includes work with the Office of Minority Health, a federal agency which aims to achieve health equity for racial and ethnic minorities, and a master's of public health from the University of South Florida, working to close the gap in health equity is her main goal, and having an open heart while doing so is essential.
"Working with our vulnerable communities of women here, Mississippi having these high rates of maternal mortality, we've been trying to close that gap for access to Title X (a federal grant program focused on family planning) services, and then also access to more prenatal care," Burrell said.
Dr. Williams shares much of the same sentiment. A native of Mississippi, he had been working at the Houston Health Department and applying for dental schools when he first heard about ATSU.
"The thing that stuck out the most to me was service for the underserved communities, giving back to your community. They like to bring students into ATSU-ASDOH, into ATSU, train them in whole person healthcare, and go back to the community and give back. I love that approach, I love that mission, and that was what initially attracted me and sold me to come to ATSU-ASDOH," Dr. Williams said.
Both Dr. Williams and Burrell were recipients of ATSU's Graduate Health Professions Scholarship (GPS), which was developed for historically underrepresented groups and is a targeted approach to attract and educate students whose life contributions and experiences are consistent with ATSU's mission to serve in underserved areas.
"Going through the GPS program is how Quotasze and I had met. We connected on a background of what can we do to serve our community, and how can we make sure we empower and uplift our community," Burrell explained.
In the future, the two hope to open their own community health center, but for now they want to focus on promoting health equity and providing the best care possible to the community in Mound Bayou.
"At ATSU, we talk about whole person healthcare every day. I'm sure to let patients know, 'Hey, you're here for a dental visit, but I want to make sure you're healthy, as well. I know you haven't seen a provider in a while,'" Dr. Williams said.
"We just want to make sure that we're doing the best we can to serve this population here."