Still Living the ATSU Mission: Leigh Anne Costanzo
Posted: July 19, 2017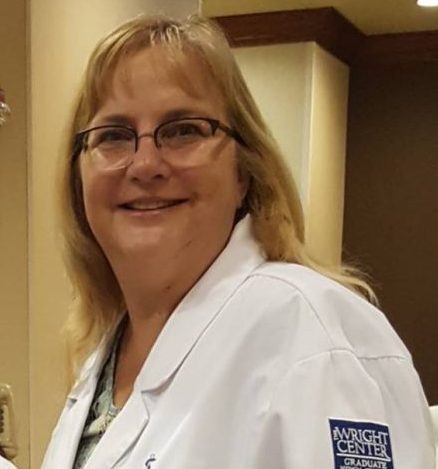 On her 40th birthday, after 14 years as a nurse, Leigh Anne Costanzo, DO, RN, '16, made the decision to go to medical school.
It was an encouraging conversation with a coworker that inspired Dr. Costanzo to take the next step in her career. "I had heard it before, but something clicked that day," she says.
Although Dr. Costanzo had loved working in healthcare, she wasn't entirely satisfied with the education she received as a nurse. "I joke that I went to medical school because I needed debt and stress," she says. "The truth is, I always wanted to know more. My nursing program didn't provide enough of a focus on physical medicine. That's what swayed me to go to medical school."
It's been a year since Dr. Costanzo graduated from A.T. Still University's School of Osteopathic Medicine in Arizona (ATSU-SOMA). She now works as a resident at El Rio Community Health Center in Tucson, Arizona, where she has embraced the University's mission to serve the underserved. She enjoys working at a community health center and educating her patients about healthy living.
"It forces you to get creative," she says. "I'm not just a prescription salesman. I do a lot of teaching. Sometimes my patients just don't know what type of foods they should be eating. I talk to them about different diets and different lifestyles."
She also appreciates the strong relationships she builds with her patients.
"I get to know my patients on a deeper level because they are comfortable talking to me about their needs," she says. "It is preparing me for my career after residency because I'm learning not to make assumptions. You can't assume that patients have access to every resource, and you have to be mindful of that when you're treating them."
One patient in particular made an impression on Dr. Costanzo. A 50-year-old woman who had not seen a doctor in several years visited the center. She had a myriad of symptoms, including severe weight loss, hair loss, low energy, high blood sugar, and high blood pressure. Doctors at the emergency room discovered a mass in her lungs, and Dr. Costanzo feared the worst.
To her relief, a biopsy revealed that the mass was an infection, and could be cured with antibiotics. Over the next year, Dr. Costanzo helped the patient manage her blood sugar, control her heart rate, and lead a healthier life. Today, the patient has gained 30 pounds, her blood sugar is under control, she has more energy, her hair is growing back, and she feels healthier.
Because of scheduling, the patient sometimes has to see other physicians, but she recently told Dr. Costanzo that she would prefer to see only her.
"It made me feel like I was doing something for her emotionally that was just as important as her medical treatment," says Dr. Costanzo.
Although going back to school was difficult at times, Dr. Costanzo is grateful she now has a challenging and rewarding career. She encourages others to pursue their dreams at any stage of life.
"Just do it," she says. "The only thing stopping you is your fear of not succeeding."