SparkTank winners present at Athletic Training Educators' Conference
Posted: May 9, 2017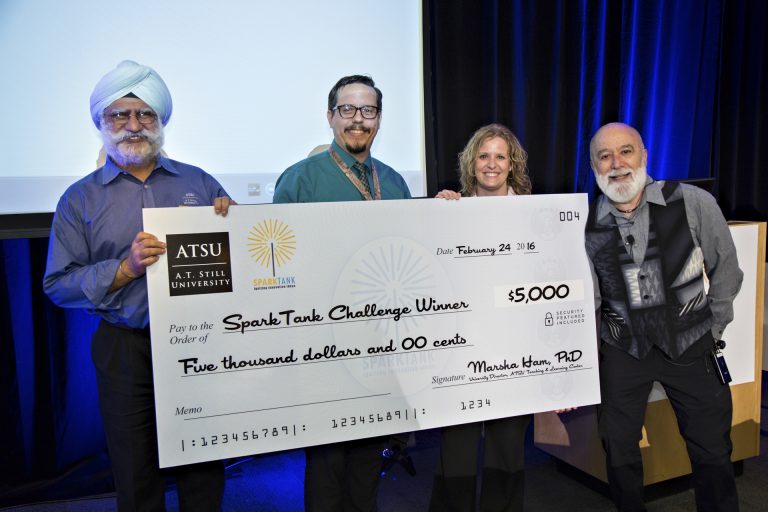 Corporate and Commercial Photography by Mark Skalny 1-888-658-3686 www.markskalny.com #MSP1207
One of the winning teams from last year's SparkTank competition recently presented to an enthusiastic crowd at the Athletic Training Educators' Conference in Dallas. Teammates Kellie Bliven, PhD, ATC; Inder Makin, MD, PhD; and Ryan Hutman spoke about ultrasound imaging in education, an interprofessional project they spearheaded at A.T. Still University (ATSU).
The winning SparkTank proposal, "Infusing Mobile Picture-In-Picture Ultrasound into Musculoskeletal Evaluation for Healthcare Students and Professionals" employs software to display musculoskeletal images in the classroom. The equipment enhances student understanding of anatomy, while promoting clinical examination skills.
"We want to connect ultrasound-based medical education in multidisciplinary healthcare specialties and tie it to active learning and teaching principles," says Dr. Makin.
The idea was sparked when Dr. Bliven and Dr. Makin identified an interdisciplinary need to display ultrasound images in a large classroom setting. With the help of Hutman in Academic Technologies, they developed an affordable, effective model.
SparkTank, an initiative of ATSU's Teaching & Learning Center, invites ATSU students and faculty to pitch innovative educational project ideas in a live-show style competition. The winning teams receive a $5,000 grant for their projects.
"It was a unique format compared to how we typically propose ideas," says Dr. Bliven. "We had to be more creative. It was fun to work on a project with people from different areas of the University."
Are you interested in applying for a SparkTank grant? "I would capitalize on the collaborative opportunities that exist at ATSU," advises Dr. Bliven. "Pursue innovative projects, and be creative in how they're presented. It's a unique opportunity in a really supportive and enthusiastic environment."
Check back soon for more information about the 2017-18 SparkTank season!