A.T. Still University Teaching & Learning Center presents
SparkTank - Igniting Innovative Ideas
Advancing the Scholarship of Teaching and Learning
Contribute to teaching and learning innovation at A.T. Still University (ATSU). Pitch your brilliant idea for a chance to win $5,000 to fund your project. SparkTank, an ATSU Teaching & Learning Center biennial event, is a creative teaching and learning grant challenge for ATSU students, faculty, and staff to spark and support development of innovative teaching and learning project ideas.
The SparkTank opportunity
​Ignite your creativity by developing a creative teaching and learning project idea that advances engaged student learning through innovative teaching practice.
Foster new ideas that contribute to the development of the next generation's whole person healthcare clinicians.
Support the University's mission as a learning-centered institution preparing highly competent healthcare professionals through innovative teaching and learning practices and activities.
How SparkTank works
​SparkTank, a live show-style event, brings the ATSU community together to pitch innovative teaching and learning projects.
Students and faculty compete as individuals or teams to pitch ideas for innovative teaching and learning projects.
Challenge teams can be any combination of students, faculty, and/or staff members with a maximum of three members per team. Individual students and student teams must have a faculty mentor.
Each individual or team has 10 minutes to pitch their project idea.
Following each pitch, judges ask questions about the project idea. Audience members also have a chance to ask questions. Each pitch is then scored.
Once all pitches are complete, judges' scores are tabulated, and the winning projects named.
The winning projects receive a $5,000 implementation grant.
Winning project team members can apply for a travel grant if their project is accepted for national conference presentation or poster session within the continental United States. Project papers accepted for publication in a peer-reviewed journal will earn a cash award for team members.
2017 SparkTank Kirksville group presentation recap with judges' remarks
JUDGING CRITERIA
SUCCESSFUL PITCH TIPS
ARIZONA CAMPUS WINNERS
MISSOURI CAMPUS WINNERS
FINAL REPORTS
There are two rounds of judging consideration. First is the review and evaluation of the pre-proposal packet, which includes the application, proposal description, and proposed budget. Second is judging of pitched proposal in competition for the event.
First round
First round consideration will evaluate written proposals for innovative approach, project's potential impact, and implementation plans.
Innovation. Does the proposal demonstrate rationale for and creative approach to innovation in teaching practice, engaged learning activities, and/or 3-D printing/modeling? Is the idea clearly and concisely explained?
Impact. Does the proposal explain the project's expected impact, plans for assessing success, and sustained impact potential beyond the grant's life?
Implementation. Does the proposal demonstrate convincing capability for project implementation by providing a feasible timeline, anticipation of potential challenges and their solutions, and explanation of who will be working on the project and an appropriate budget?
Second round
A group of finalists will be selected based on first round consideration to move to the second and final judging round. In the event there are less than two proposals in a category, categories may be collapsed into fewer broader categories for final judging. Final round judging criteria will be innovation, impact, implementation, structure and delivery of the pitch.
Pitch process
Each project proposal (individual/team) selected for the competition's final round will have ten minutes to pitch to the judges' panel. Judges will have reviewed each proposal prior to the live competition event. Pitches should be concise, interesting, and outline the project's potential to positively impact teaching practice and learning in innovative ways. The pitches should also focus on implementation plans.
Proposals earning the most judges points in each category will be competition winners and will be awarded implementation grant funds up to $5,000 per project.
As a matter of policy, ATSU retains the rights to any intellectual property developed by its students or employees. Any such materials resulting from SparkTank Creative Teaching & Learning Grant Challenge activities would be managed consistent with University policy.
Successful pitch tips
Plan your pitch. Structure your pitch presentation to highlight project potential and teaching practice and learning impact.
Capture judges' attention. Open with something catchy – maybe a story, example, picture or rhetorical question to get them thinking.
Create a picture of your project idea. Use illustrative language, visuals, examples, scenarios, and comparisons that make it easy for judges and the audience to "see" your proposal value. The more you can actively engage judges, the better the opportunity to earn their points.
Describe the challenge you want to solve or improvement you want to make. Convince judges WHY your project is important by clearly articulating the potential innovative impact on teaching practice and learning.
Stand out by being different. Emphasize what makes your project special and/or unique.
Be action-oriented. Describe your project's current stage – just a well-developed idea, researched and ready-to-roll, somewhere in-between, or part of a larger project? What do you need to get the project started? Funds? Technology? Project participants?
Avoid acronyms and jargon. Make the project's value clear for the judges regardless of their training and background.
Be concise. An effective pitch contains as few words as possible and does not go into unnecessary detail.
Be consistent. Judges will be hearing multiple project ideas, so stand out, or be consistent with one clear message or story.
Be ready to explain how the benefits of what you learn/demonstrate can be shared across the University and/or beyond.
Be confident, have fun, and show passion and integrity.
Practice, practice. Have someone read your proposal text to you. How did it sound? What did you imagine?
2018 Winning Projects
"Foundations of Competency-Based Education: Building an Infrastructure to Promote a Learner-Centered Experience."
Presenters: Cailee Welch Bacon, PhD, ATC & Kirsty Gaither, MA
ASHS, SOMA; ETDC

"The Use of Collaborative Whiteboards in Interactive Education"
Presenters: John Olson, PhD
SOMA

"The Butterfly Effect"
Presenters: Abbas Charlie & Uday Gulati
Faculty mentor: Norma Villanueva, MD, MPH
SOMA
2017 Winning Projects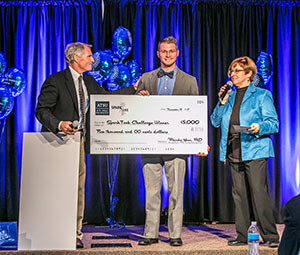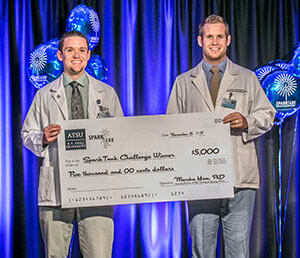 "3D Cervical and Lumbar Models for Epidural Placement Training"
Presenters: Zach Headman, OMS I; Marcus Matson, OMS I;
Faculty mentors: Debra Loguda-Summers, Manager, Library; Jean Sidwell MALS, library branch director
KCOM
Read the final report
"Dysfunction Dice"
Presenters: Caleb Marting, OMS I;
Faculty mentor: Eric Snider, DO Chair, OMM-Academic
KCOM
Read the final report