Service with a smile: Dr. Stanley Grogg
Posted: December 8, 2017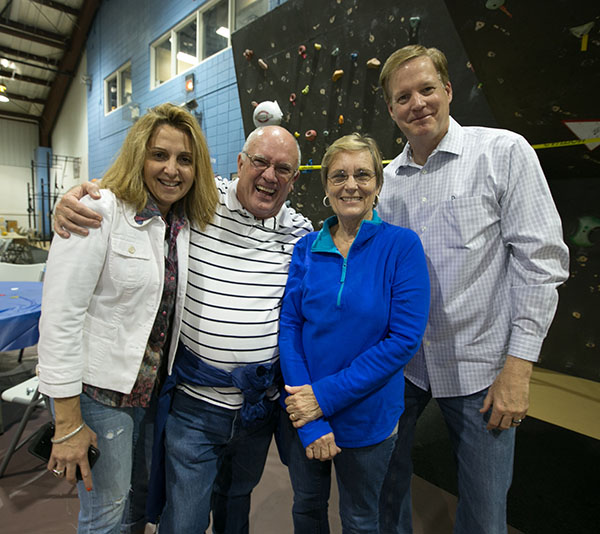 Dr. Jenny Alexopulos, '91, Dr. Grogg, Barbara Grogg, and Dr. Phelps celebrate Founder's Day on the Missouri campus in October 2016.
For years, Stanley Grogg, DO, '71, has provided extraordinary service to his patients, always with a smile. Smiling while caring for others is a habit he developed early in his career.
Dr. Grogg, member and secretary of the ATSU Board of Trustees, is a graduate of ATSU-KCOM. During his third-year clinical rotations, he worked at a nursing home in Kirksville, Missouri, where a formative experience led him to specialize in infant and adolescent healthcare. One day, as he was performing a physical on an older man, Dr. Grogg noticed a wet spot on his own leg; the man had purposefully urinated on him.
"At that point, I decided on pediatrics," Dr. Grogg says. "If I was to be urinated on, I did not want it to be intentionally."
The doctor has a sense of humor. It's emblematic of the joy he finds in serving others.
Dr. Grogg currently lives in Tulsa, Oklahoma, with his wife, a family medicine nurse practitioner. He is a professor emeritus at Oklahoma State University and works as a consultant for a telemedicine company called MDLive.
If his bevy of accomplishments is any indication, Dr. Grogg is a busy man. Besides being board certified in pediatrics, he is a fellow of the American College of Osteopathic Pediatricians and the American Academy of Pediatrics. In the past, he has served as president of the ATSU Alumni Association and the Kirksville Osteopathic Alumni Association. Dr. Grogg has garnered numerous accolades, including awards for distinguished service from ATSU in 2011 and the American Osteopathic Board of Pediatrics in 2015.
Dr. Grogg enjoys traveling, which is good, because he does it quite often. His Christian faith has led him to pursue medical missions in underserved communities around the world. He says he has seen 170 countries and provinces across every continent. He admires the biblical apostle Luke, a physician who traveled internationally as a missionary, and tags his emails with Jude 1:2, "May mercy, peace, and love be yours in abundance."
The verse is a fitting coda for a man who administers care with such a joyful attitude. It's also a message in keeping with ATSU's continued mission of serving the underserved. Dr. Grogg's service, whether at home or abroad, is a reminder of the osteopathic physician's commitment to patient-centered care.