Save the date: Designing Without Limits 3D Printing symposium
Posted: September 18, 2023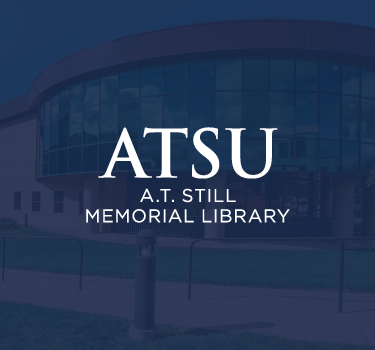 Join the A.T. Still Memorial Library for our first ever Designing Without Limits 3D Printing symposium. This event, hosted by the A.T. Still Memorial Library, ATSU's MD3D Print Club, DEPCO Enterprises LLC, and Stratasys will bring together a variety of speakers to talk about 3D printing innovations.
The symposium will be held in-person on the Kirksville campus and over Zoom on Oct. 21, 2023, from 8:00 a.m.-4:45 p.m. CT.
Register and RSVP here. All in-person attendees are asked to register by Oct. 10.
For questions or additional information, contact Debra Loguda-Summers at dsummers@atsu.edu or 660.626.2645.
Full Symposium Agenda
8:00-8:15 a.m. Introductions & Moderators
Harold Bright, MLS, AHIP, director, A.T. Still Memorial Library
Debra Loguda-Summers, public service and 3D print service manager, A.T. Still Memorial Library
Aaron Panek, education consultant, DEPCO Enterprises, LLC
8:15-9:00 a.m. Digital Dimensions: Exploring 3D Printing and Software
Ja'Mel McCaine, creative experience assistant, St. Louis Public Library
9:00-10:00 a.m. From Pixels to Precision: Transforming Healthcare Education with 3D Imaging, Printing, and Workforce Development
Trish Weber, assistant director of radiography/medical imaging and technology, associate professor of radiography/medical imaging, Clarkson College
10:00-11:00 a.m. Adapting Toys Using 3D Printed Switches
Katherine Jones, MA, OTR/L, CLT-LANA, assistant professor, A.T. Still University-Arizona School of Health Sciences
11:00-11:15 a.m. Creating 3D Models with Metascan: An Overview and Use Case
Jamie Carroll, senior graphic artist, A.T. Still University Academic Technologies
11:15-11:45 a.m. Metascan with LiDAR iPad Scanning/3D Design Projects for ATSU Academics & Researchers
Dean Maag, manager, A.T. Still University Academic Technologies
11:45 a.m.-1:00 p.m. Lunch
1:00-2:00 p.m. 3D Printing and the Biophysics of Shape
Bruce Young, PhD, MS, professor, anatomy, A.T. Still University-Kirksville College of Osteopathic Medicine
2:00-3:00 p.m. Framework for the Dissemination of New Technology In a Medical Library
Kate M. Serrald, MA, unit manager, The Methodology Lab, Preston Smith Library
C. Eric Wilkinson, MIS, regional library director, Texas Tech University HSC
3:00-4:00 p.m. 3D Models In Dentistry: A Revolution In Patient Care and Education
Ahmed Mahrous, BDS, MS, associate professor, prosthodontics, A.T. Still University-Arizona School of Dentistry & Oral Health
4:00-4:45 p.m. Tour of A.T. Still Memorial Library 3D Lab
Debra Loguda-Summers, public service and 3D print service manager, A.T. Still Memorial Library
Aaron Panek, education consultant, DEPCO Enterprises, LLC