President's Perspective – December 2022
Posted: December 13, 2022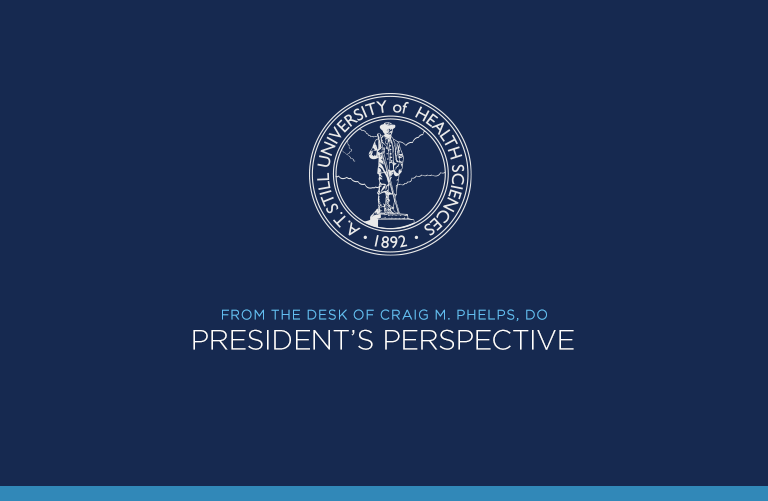 Holiday gratitude
2022 has been an exceptional year for A.T. Still University (ATSU) students, faculty, and staff. I am grateful to all as we successfully came out of the pandemic and compassionately moved forward.
In this edition of the President's Perspective, you will read about faculty and staff kudos and anniversaries, University accomplishments, and strategic plan progress.
As we enter the holiday season, I am humbled by and thankful to our university community for all they do to provide quality education for students and exceptional care for patients.
Museum of Osteopathic Medicine rededication
The Museum of Osteopathic Medicine held its rededication ceremony Friday, October 14, during Founder's Day activities on the Kirksville, Missouri, campus. More than 100 ATSU alumni, faculty, staff, students, trustees, administrators, and community members joined together to celebrate the museum's recent accreditation from the American Alliance of Museums, along with leaders from the American Association of Colleges of Osteopathic Medicine, American Osteopathic Association, Missouri Association of Osteopathic Physicians & Surgeons, and Arizona Osteopathic Medical Association. Thank you to all who made the event a success.
HEED award
ATSU was named a recipient of the 2022 Health Professions Higher Education Excellence in Diversity (HEED) Award by INSIGHT Into Diversity magazine for the sixth consecutive year. ATSU was selected for its deep commitment to an educational and collaborative environment embracing cultural proficiency, highlighted by the University's innovative Dreamline Pathways program. Thank you to the Diversity & Inclusion team, led by Vice President Clinton Normore, MBA, for their accomplishments.
2022-2023 strategic focus areas
Please review the 2021-2028 Strategic Plan online.
1. Engaged, diverse university community
It has been a difficult year with hate crimes and mass shootings in the daily news. Our hearts go out to the individuals and groups affected by these tragic events. ATSU understands to be the best faculty, staff, student, or alum, culture proficiency is key. The University continues to offer programs and activities supporting the growth and development of faculty, staff, and students.
2. Mission-focused scholarship
The University continues to support scholarly activity, including publications by faculty, staff, and students. Additional funds and assistance are available to those interested. Last fiscal year (2021-2022), faculty, staff, and students developed more than 430 publications, abstracts, presentations, and posters.
3. Agile resource management
ATSU will continue to analyze the best ways to use resources throughout the institution and plan accordingly.
Speech-Language Pathology program update
A.T. Still University-Arizona School for Health Sciences' (ATSU-ASHS) Master of Science in Speech-Language Pathology program officially welcomed its first class of students in July. Students, faculty, and staff celebrated the launch of the new program designed to prepare students for working with individuals with speech, language, and swallowing disorders, with an emphasis on educating bilingual speech-language pathologists.
Central Coast Physician Assistant program update
A.T. Still University's College for Healthy Communities welcomed the second class of students to its Central Coast Physician Assistant program in September. The program educates culturally humble, diverse physician assistants to serve the primary care needs of medically underserved communities.
Recent ATSU white coat ceremony
ATSU-ASHS Occupational Therapy
Class of 2024
Friday, November 11
Mesa, Arizona
Required Employee Education (REE)
More than 1,150 ATSU employees (about 81%) have completed the 2022 REE. Please remember to complete your REE by Saturday, December 31, if you have not already done so. This course is critical for ATSU's ongoing legal compliance and best practice management. For questions, please contact John Gardner, PhD, MED, director of policy and employee education, human resources, at johngardner@atsu.edu or 660.626.2113.
Upcoming continuing education activities
ATSU's Continuing Education department provides support for the University's schools, graduates, and the professional community to fulfill their potential throughout their careers and ultimately impact patient care and well-being. For a list of upcoming continuing education opportunities, please visit atsu.edu/ce.
ATSU winter break
The University will be closed beginning Friday, December 23, 2022, and will reopen Tuesday, January 3, 2023.
Faculty and staff updates (as of November 30)
Recent promotions: Please view the list of employee promotions (PDF).
Accomplishment kudos: Please view the list of accomplishment kudos (PDF).
Anniversary milestones: Please view the list of employee anniversaries (PDF).
Ideas or concerns?
Please submit your ideas to ideas@atsu.edu. Each email will receive a personal response from me. Ideas are only shared with the sender's permission.
If you see something you are worried about, please contact the anonymous Fraud Hotline to report situations or behavior that compromises ATSU's integrity. The hotline is available 24/7 at 1.855.FRAUD.HL (1.855.372.8345) or fraudhl.com. Reference code "ATSU" when making a report.
In closing
Thank you for taking a few minutes to catch up on ATSU happenings. You can keep up with the latest ATSU News at atsu.edu/news. I hope this holiday season and New Year bring you and your family health and happiness.
Yours in service,
Craig M. Phelps, DO, '84
President
A.T. Still University of Health Sciences
800 W. Jefferson St., Kirksville, MO 63501 | 660.626.2121
5850 E. Still Circle, Mesa, AZ 85206 | 480.219.6000
1075 E. Betteravia Rd., Ste. 201, Santa Maria, CA | 805.621.7648
Office of the President | president@atsu.edu
ATSU Communication & Marketing | communications@atsu.edu
A.T. Still University of Health Sciences serves as a learning-centered university dedicated to preparing highly competent professionals through innovative academic programs with a commitment to continue its osteopathic heritage and focus on whole person healthcare, scholarship, community health, interprofessional education, diversity, and underserved populations.