President's Perspective – December 2015
Posted: December 15, 2015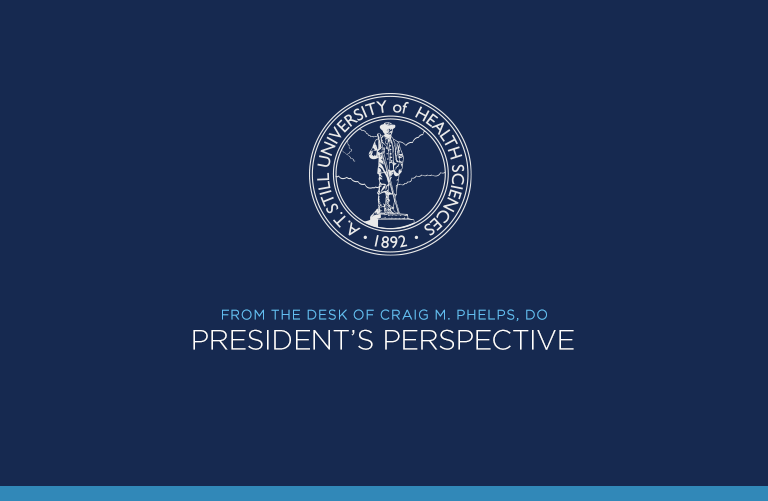 A season of gratitude
In late September I wore my ATSU shirt out to dinner. While dining, a young couple slowly and respectfully advanced toward the table. At first I thought perhaps I dropped something or worse spilled something (think tomato soup), and they were graciously interceding to avoid future embarrassment on my behalf. As you can imagine it would not have been the first time I had literally made a mess in public or walked out without my cell phone, keys, or glasses.
Pausing, hesitantly I looked up and made eye contact. To my delight, and relief, one of the two is a CEO of a Kansas community health center and happened to notice my shirt. They both wanted to express how much they each enjoy a new ATSU graduate working at their community health center. Well prepared, compassionate, hardworking, a delight to work with, all descriptions expressed by the couple as they enthusiastically endorsed ATSU and our graduate.
Thanking them for taking time to come over, I also responded all credit really goes to the student, faculty, and staff. I also promised I would let our ATSU family know how much our graduate is appreciated. As the holiday season gets underway, it is a perfect time to reflect on the many wonderful things our graduates, students, faculty, and staff do every day to make the world a healthier, happier place. Like the couple willing to take a few extra minutes to express gratitude, I would like to thank you for your gracious support of ATSU.
By the way, the community health center mentioned above would like to hire more ATSU graduates, and the CEO is making plans to attend one of ATSU's recruitment events.
Strategic Plan 2016-2020
At your convenience, please click on the link below to view ATSU's 2016-2020 Strategic Plan. View ATSU's 2016-2020 Strategic Plan. A special thank you to the Strategic Planning Committee members for taking time out of their busy schedules and completing excellent and meaningful work. Also, thank you to Board of Trustees members, faculty, staff, students, alumni, and external stakeholders who contributed to the plan. March 2016 kick-off celebrations will be held on each campus and virtually to thank everyone involved.
Update on 2015-16 annual goals
Improve life-work balance
The Life-Work Balance Committee has solicited input from employee and student focus groups for ideas to enhance life-work balance at ATSU. Suggestions are being compiled and prioritized and costs are being determined. The committee plans to have recommendations available in spring 2016.
Create a simplified access point for University data distribution
Information Technology Services and Academic Affairs are making excellent progress determining common data sets needed by multiple constituencies throughout ATSU. Tableau has been selected as the inaugural software interface. Expect campus and virtual demonstrations in spring 2016.
Refine ATSU's vision of preeminence
Norman Gevitz, PhD, senior vice president-academic affairs, and O.T. Wendel, PhD, senior vice president for strategic initiatives, continue working to clarify the board-approved vision statement to be "the preeminent University for the health professions." To help the University community understand and embrace ATSU's movement from excellence to preeminence, Drs. Gevitz and Wendel will be meeting with key stakeholders (e.g., University Student Association, University Faculty Senate, University Staff Council, etc.) to solicit input.
SparkTank
ATSU's Teaching and Learning Center debuted SparkTank on the Kirksville, Mo., campus November 18. The competition featured six presentations to a panel of judges and an audience of more than 60 faculty, staff, and students. Individuals and teams pitched their innovative ideas about teaching and learning, and the winners received $5,000 to fund their projects.
Jess Roland, OMS I, and a team comprised of Seth McIntire, OMS I, and Shannon McAllister, OMS I, won top honors and received funding for their respective projects. McIntire and McAllister presented in two separate categories and received funding for both proposals.
The next SparkTank competition will be held February 24 on the Mesa, Ariz., campus.
Faculty and staff accomplishments (as of November 30, 2015)
Congratulations on recent promotions Please read the complete list of employee promotions (pdf). Accomplishment kudos Please read the complete list of accomplishment kudos (pdf). Well wishes to faculty and staff celebrating anniversary milestones Please read the complete list of employee anniversaries (pdf).
In closing
Wishing you a happy holiday season and healthy new year.
Yours in service,
Craig M. Phelps, DO, '84 President