Physical therapy alumni reunited
Posted: October 10, 2013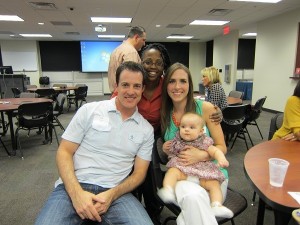 From left to right: Jeff Thorne, Makkeda Rubin-Deloney and Jessica Thorne (plus baby Thorne), DPT '09.
ATSU's Department of Physical Therapy (DPT) alumni had the chance to reunite at an alumni reception following the Arizona Physical Therapy Association State Conference – which was hosted on the Ariz. campus Friday, Oct. 4-5. For alumni that missed the reception, updates from Ann Lee Burch, EdD, PT, MPH, vice dean, ATSU-ASHS, Lori Bordenave, DPT, MEd, PT, director of progression and retention, ATSU-ASHS, DPT, and Jim Lynskey, PhD, PT, associate professor, ATSU-ASHS, are provided below:
ATSU-ASHS is home to more than 1,350 current students and 7,000 alumni. The school has seen growth at all levels despite the economic downturn. The fact that there were 900 applicants for 62 spots in the residential program last year, speaks volumes of our alumni doing great work and serving as great ambassadors of the University.
Our faculty and students play major roles in physical therapy research and community service, including 24 alumni who have been selected to make presentations at the APTA Combined Sections Meeting, as well as students and faculty providing pro bono services at Adelante Healthcare in Phoenix.
Many opportunities for continuing education and residencies are available, including the orthopedic residency program and the neuro residency program beginning next year. Contact Cheri Hodges, DPT, MAppSc, OCS, FAAOMPT, director, Orthopedic Residency Program, ATSU-ASHS, at chodges@atsu.edu or Dr.  Bordenave at lbordenave@atsu.edu for additional information.
As the DPT program continues to grow, University supporters help give current and future students a high quality education. One of the most meaningful ways to show support is to sponsor a white coat.  Learn how to support the White Coat program.?
Photos from the event can be found on the alumni Facebook page.