'On to the next century!' – A.T. Still Memorial Library celebrates its 100th anniversary
Posted: September 22, 2022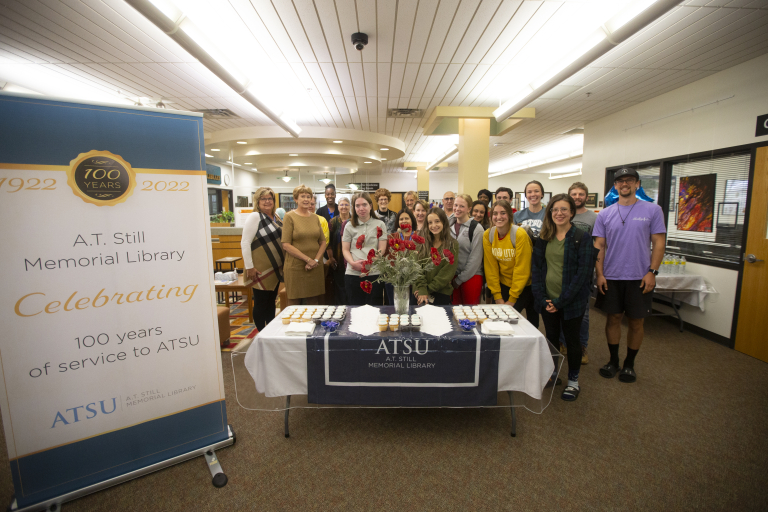 Students, faculty, and staff celebrate at the Kirksville, Missouri, campus library.
What began in a small room next to the president's office in 1922 has now grown to three libraries containing 250,000 e-books, 50,000 printed books, 20,000 e-journals, and more than 100 databases.
On Sept. 22, 2022, A.T. Still Memorial Library commemorated its 100th anniversary with celebrations on the Missouri and Arizona campuses. Students, faculty, and staff from both campuses gathered in their respective libraries to socialize, eat some delicious cupcakes, and share what they love most about the library. 
"As we look back, we can certainly see academic libraries continue to evolve and are undergoing dramatic changes. They have become spaces for intellectual creation and innovation for all our staff, students, and faculty," said Maud Mundava, MLS, MBA, Missouri campus library head librarian and assistant university library director.
The library serves not only as a popular study spot but also as a collaboration space for students, faculty, and staff, and provides a quiet area to help support research and student success. Students, faculty, and staff can also access the library's 3D printing services.
Margaret Wilson, DO, '82, ATSU-Kirksville College of Osteopathic Medicine (ATSU-KCOM)  dean, shared a few words of congratulations as well.
"We're celebrating 100 years for the library, and that's pretty amazing. It leads into the 130-year celebration for our School and profession," Dr. Wilson said.
In Arizona, Hal Bright, MLS, AHIP, university library director, shared his excitement and congratulations with all who were able to attend, exclaiming, "On to the next century!"