New and updated Library Guides
Posted: November 1, 2022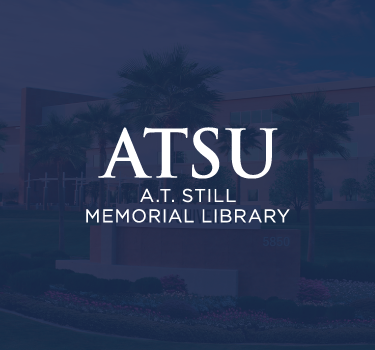 A.T. Still Memorial Library Policies
The A.T. Still Memorial Library Policies LibGuide contains all of the library's official policies. Currently, the LibGuide includes the library's collection development policy and copyright policy. The library's collection development policy guides the library in selecting, organizing, and managing library materials; ensures that collection decisions reflect the library's purpose and vision; and helps the library serve the needs of library users. The library's copyright policy summarizes relevant copyright law and A.T. Still University copyright policy as it applies to the use of library material for course readings. For questions about library policies, please contact Hal Bright, University Library director.
Academic Publishing 101
The Academic Publishing 101 LibGuide contains all the essential information you need to know to publish your research. It includes information on peer review, choosing journals to publish in, publication metrics, copyright, publishing agreements, predatory publishing, and open access publishing. This guide is meant to help students and early career researchers get started in navigating the publishing landscape. If you have any questions about publishing that are not covered in the guide, please reach out to your liaison librarian.
Open Access
The Open Access (OA) LibGuide is an introduction to open access publishing for those interested in making their work OA or who just want to know more about this rising trend in publishing. This guide explains the basis of open access publishing, including the benefits of OA and the differences between the various types of OA. In addition, this guide provides resources to help you publish your research in OA journals or self-archive it in repositories. This guide also contains information on the most recent OA Week, and contains a recording of the A.T. Still Memorial Library's OA Week workshop. If you have questions about OA publishing, your liaison librarian can help.
CHC Physician Assistant Clinical Resources
With the completion of the white coat ceremony for the inaugural cohort on the ATSU-College for Healthy Communities campus in Santa Maria, California, we have created a new clinical guide to meet the second years' study needs. 
The guide includes resources organized by rotation: internal medicine, pediatrics, emergency medicine, OB/GYN, behavioral health, surgery, and family medicine. Students can find e-books, websites, videos, databases, and organizations useful to their rotation within each rotation tab.
The guide also provides a one-stop location for pertinent mobile apps, general rotation resources, professional and ethical resources, research resources, procedure videos, and PANCE prep exam support.