Library point of care tools
Posted: December 8, 2022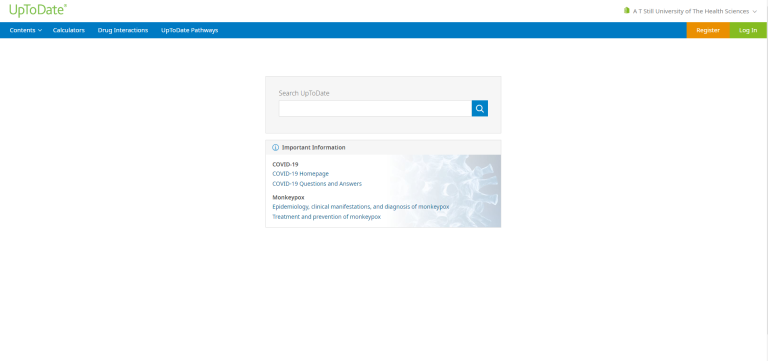 Here at the library, we know that our clinical apps and point of care tools are some of our most popular resources. But did you know that we have a variety of different point of care tools, not just UpToDate? Read on to learn more about the various tools we provide, and find out which one suits your needs best.
The first tool, which you are likely already familiar with, is UpToDate. UpToDate is designed to provide all the essential information needed to make informed clinical decisions and is aimed at healthcare professionals practicing in a wide variety of settings. Like all point of care tools we provide and recommend, UpToDate provides essential information on everything from etiology to treatment for a large range of diseases, conditions, and patient populations.
DynaMed is similar to UpToDate, and is our second most popular point of care tool. Like UpToDate, DynaMed has a clean, modern interface and a wide range of information. For many of our faculty and students, the choice between UpToDate and DynaMed is one of personal preference, based on which interface and informational structure fits you better. We recommend trying out both to see which ones click with you.
That being said, it is important to note that DynaMed organizes its information on a more granular level, making it easier to find information in DynaMed for sub-specialties. If you are working in a specific specialty, check out DynaMed's coverage to see if your specialty may be better covered by DynaMed.

Rehabilitation Reference Center is a point of care tool designed especially for healthcare providers working in rehabilitation settings. If you are an occupational therapist, physical therapist, athletic trainer, or healthcare provider of any kind working in rehabilitation, check our Rehabilitation Reference Center to get targeted information designed to help you in your work.
One of the great things about this tool is that we are able to offer it to alumni. If you are a current student relying on our point of care tools, you can continue to use the Rehabilitation Reference Center even after you graduate, which might be helpful if you end up in a workplace without access to tools like UpToDate.
The last point of care tool offered by the library is Essential Evidence Plus. Essential Evidence Plus is another point of care tool aimed at a wide audience of healthcare professionals. This tool is accessed as an eBook through our StatRef! database, but you can access it directly from our database list, which is accessible from the library homepage. Once you get to Essential Evidence Plus, use the dropdown menu next to the search bar to select "Current Title", and then you can search for diseases and conditions just like any other point of care tool.
Essential Evidence Plus is another tool we are able to offer to our alumni. If you are a student, we recommend checking it out and familiarizing yourself with the tool as you will have access to it even after you graduate.
If you have any questions about how to use our tools, don't hesitate to reach out to the library for help.