ATSU-KCOM alumnus hosts book signing
Posted: November 20, 2013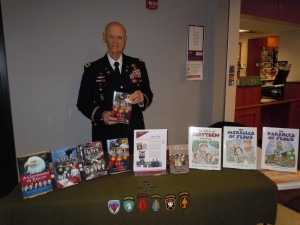 Col. Jim Coy, (Ret.), DO, '73, recently returned to his hometown of Kirksville, Mo., for a book signing at Truman State University. He also stopped by the Adair County Public Library and some of the local schools to donate books.
Dr. Coy is the author of several books, including "Leadership, Courage, Hope and Faith." His most recent book is titled "Those Who Serve." He addressed this topic at a speaking engagement at the First United Methodist Church.
Dr. Coy served 26 years in the military with Special Operations and Special Forces units and deployed six times during his military career. He also served with the 3rd Special Forces Group (Airborne) during the liberation of Kuwait City in the first Gulf War.