Introducing your library liaisons
Posted: August 1, 2023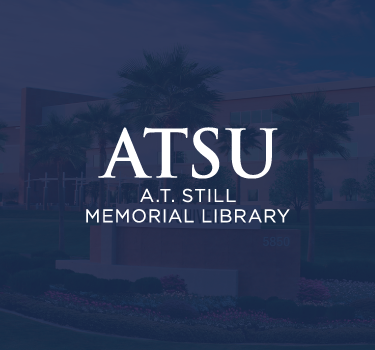 All programs at ATSU have a dedicated liaison librarian who gets to know your program, curricula, students, and faculty. For all of our students and faculty, your liaison librarian will be your point-of-contact for all library services and questions about research. See below to learn more about your liaison and how to contact them.
Leslie Golamb
Liaison to ATSU-SOMA and ATSU-ASHS (OT, PT, Aud, SLP)
lesliegolamb@atsu.edu
Schedule an appointment
My name is Leslie Golamb, MLS, MBA, MHA, and I am excited to be the liaison librarian for ATSU-SOMA and the Physical Therapy, Audiology, and Speech-Language Pathology programs. I am here to support students and faculty in any way I can through guidance on literature searching, answering library-related questions, citation formatting, and much more.
I graduated from Clarion University in 2011 with my MLS and graduated in 2019 from the University of Phoenix with my MBA and MHA. Throughout my education, I have learned not just the library field but gained an understanding of the basics of the medical field. I have been in the library/education field for over 10 years. Along the way, I have learned many tools for research and how to teach all levels on how to use the library resources. Outside of work, you will find me mostly outdoors hiking, camping, or backpacking. I also enjoy reading, bowling, and spending time with my daughter.
CJ Garcia
Liaison to ATSU-ASHS (PA, AT, DIHS)
cjgarcia@atsu.edu
Schedule an appointment
My name is CJ Garcia, and I support our students and faculty in the Physician Assistant department, Athletic Training department, and the Department of Interdisciplinary Health Studies. I am always happy to help strengthen the research skills of our students and faculty however I can. My favorite part of my job is hearing about all the interesting research projects going on at ATSU. Don't hesitate to reach out!
I earned my MA in library and information science from the University of Arizona in 2022 alongside a certificate in instruction and teaching for librarians. I earned my BA in classics from Arizona State University in 2019. I have particular expertise in copyright, scholarly publishing, research data management, instructional design, and online learning. I spend most of my free time playing video games or pampering my cats.
Hal Bright
Liaison to ATSU-ASDOH and ATSU-CHC
hbright@atsu.edu
Please email for appointments
Hal Bright has been the liaison librarian for ASDOH for five of the 10 years he has been at ATSU. He specializes in library technology, collections acquisition, and contract negotiation. He loves the thrill of the search while helping students and staff during the research process. He teaches EBD at ATSU-ASDOH and ATSU-MOSDOH and loves the fact that his dentist, endodontist, and periodontist are all ATSU-ASDOH graduates or faculty.
Maud Mundava
Liaison to ATSU-CGHS, ATSU-KCOM, and ATSU-MOSDOH
maudmundava@atsu.edu
Schedule an appointment
My name is Maud Mundava, your ATSU-CGHS/MOSDOH/KCOM librarian and the campus head/assistant university librarian. As your liaison, I am here to support and help you find resources that are tailored towards your individual/group research and information needs.
In addition to literature searching, I also provide one-on-one or group assistance for developing effective research strategies and tips on proper citing of sources or via citation managers such as Zotero, EndNote, and more. I also provide asynchronous and synchronous instruction, workshops, and develop tutorial guides customized to your research/learning, and teaching needs. You can request library instruction using our request form.
Feel free to send me recommendations for new resources to add to the library collection, such as books, databases, equipment etc. As always, please reach out if you have any questions regarding any services and resources I provide.