ATSU-CGHS' Doctor of Education in Health Professions a path to healthcare education
Posted: November 18, 2022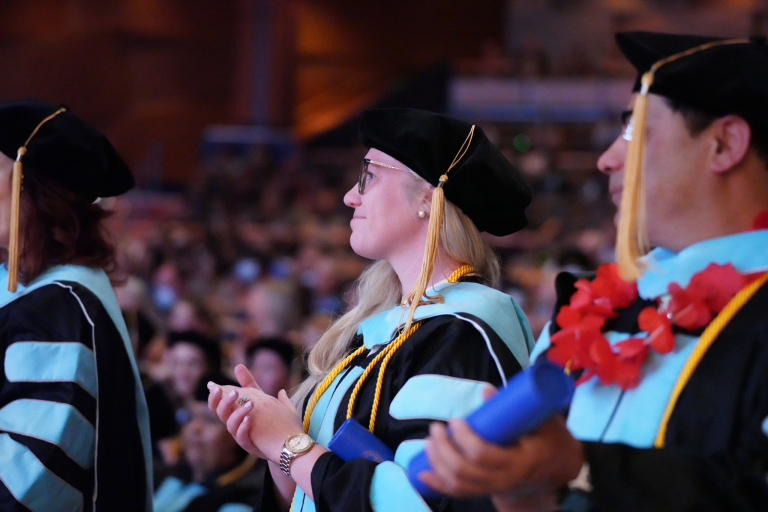 A Doctor of Education in Health Professions (EdD) online program graduate at commencement in May 2022.
A.T. Still University-College of Graduate Health Studies' (ATSU-CGHS) Doctor of Education in Health Professions (EdD) online program is preparing healthcare professionals to become the next generation of innovative health professions educators.
"The goal of the program is to prepare healthcare professionals in higher education curriculum and instruction…You're teaching them how to most efficiently and most effectively educate and train the next generation of healthcare professionals," Erin Breitenbach, PhD, MEd, associate professor and program chair, said.
The 55-credit-hour, fully-online program is designed for practicing clinicians, healthcare educators, leaders, and directors who are passionate about healthcare education and teaching others.
According to the Bureau of Labor Statistics, the health education sector is rapidly growing, with demand for qualified health educators projected to rise 17% by 2030. In addition, the college faculty profession is predicted to grow 9% from 2019 to 2029.
"Students do learn leadership and how to do research because it is a doctorate program, but the focus in terms of a discipline is on curriculum and instruction in the health professions," Dr. Breitenbach said.
Students are required to complete a Doctoral Research Project (DRP), which consists of five five-hour courses and is similar to a dissertation. The aim of this project is for students to learn how to develop a research project from the stages of proposal to dissemination.
"I always like to explain it as it's almost like going from working for someone to becoming an entrepreneur," Dr. Breitenbach said. "They're implementing all of the knowledge they've gained through their core courses, and identifying a topic that interests them or is somehow related to their own work."
After completion of the project, students have the opportunity to submit their project to a peer-reviewed journal for publication. Although they are not required to be published, many students do, which provides them with a critical edge in networking.
Because the program is 100% online, students also have the flexibility and freedom to maintain their professional careers while in school. Students are required to have a master's degree or higher before entering the program.
Upon graduation, students are prepared to excel as leaders in health education, finding career opportunities such as a director of community health services, a health professions clinical educator, or a professor in a multitude of health professions.
An essential part of the program focuses on innovating new ways to educate others on their roles and responsibilities within healthcare delivery.
"It's important for us to try to be trendsetters, or at least trend followers. What are the latest innovative teaching and learning strategies? It's about staying on the cutting edge," Dr. Breitenbach said.
The program is constantly looking for new ways to develop teaching strategies, and Dr. Breitenbach is looking forward to how the program will continue to grow and evolve as more healthcare professionals pursue their passion for teaching.