Founder's Day 2020: Continuing an annual tradition
Posted: September 22, 2021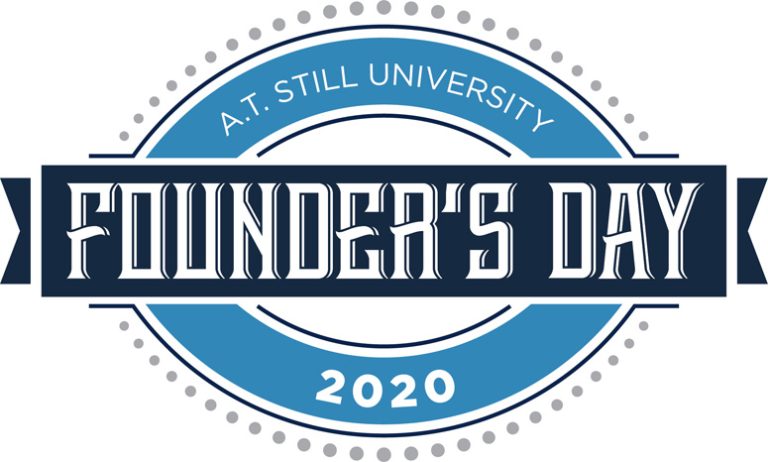 Founder's Day in Kirksville, Missouri, is an event the University looks forward to every year. This past year, some changes were made to ensure the celebration took place in the safest way possible. Even though it may not have looked the same, it was important for ATSU to continue its annual tradition.
Virtual Alumni Recognition Ceremony
All 2020 Kirksville Osteopathic Alumni Association (KOAA) Honors Excellence Awards winners and alumni were recognized online via Zoom. Those attending the ceremony viewed a slideshow with information about the winners and names of alumni celebrating graduation anniversaries.
Classes of 1970, 1980, 1990, and 1995 were recognized as they celebrated their 50th, 40th, 30th, and 25th anniversaries. The class of 1970 became members of the Gold Medallion Club for being alumni for 50 or more years. Some alumni highlighted their practice/specialty, spouse, children, current location, personal interests/hobbies, fondest memory of medical school, favorite recollection, and most influential ATSU-KCOM faculty or staff member.
In addition to the ceremony to recognize alumni, virtual reunions took place, and many alumni were able to reconnect with old friends.
Winners of 2020 KOAA Honors Excellence Awards
Honorary KOAA Membership
Phyllis Domann & Mary Ann Hill
Distinguished Service Awards
Nancy Parrish & William J. "Bill" Wobken
Living Tribute Award
Howard S. Levine, DO, '87
Alumnus of the Year
David Goldman, DO, JD, FCLM, '91
Fred C. Tinning, PhD, DOEd (hon.), '14, Founder's Day Osteopathy Lecture
Suzanne R. Steinbaum, DO, FACC, FAHA, '94, presented "Living from the Heart": An Osteopathic Approach to Heart Disease.
Founder's Day parade
To allow for social distancing, part of the celebration included a "backwards parade" in place of traditional events. Students and their families attended the parade and collected goody bags from ATSU staff members as they drove through each station.