Far from what she'd known, ATSU-MOSDOH student found home away from home in Kirksville
Posted: November 30, 2022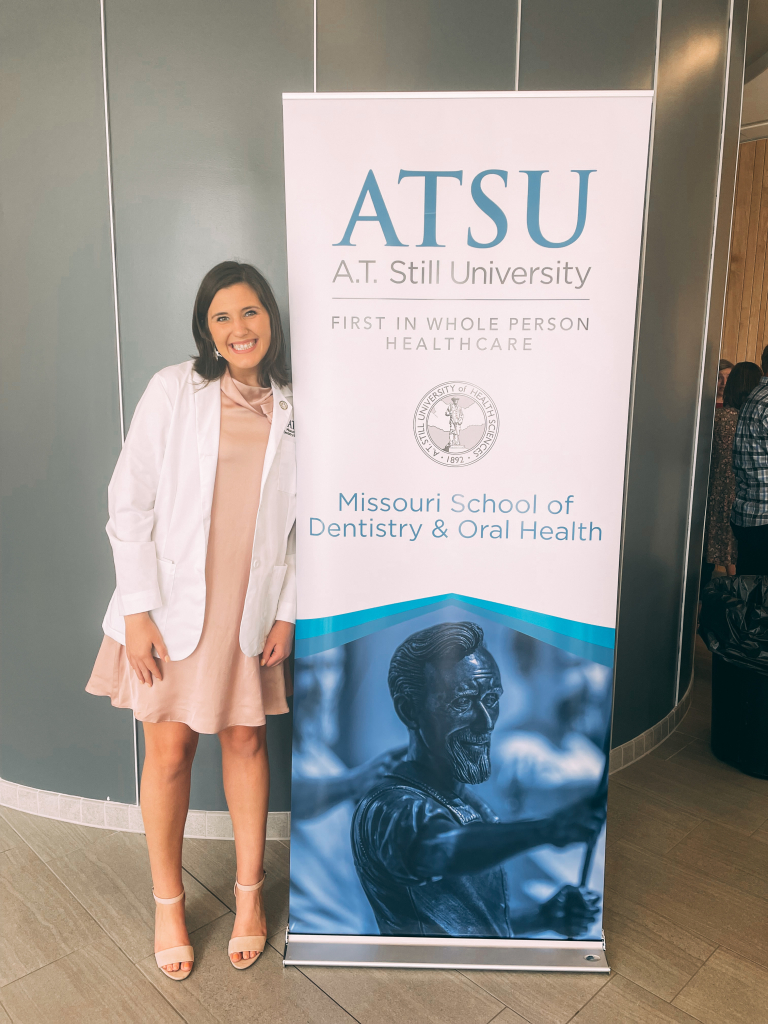 Kaitlyn Carpenter, D2
A.T. Still University-Missouri School of Dentistry & Oral Health (ATSU-MOSDOH) student Kaitlyn Carpenter, D2, knows down to the minute exactly how far away she is from home. That's 13 hours, 57 minutes, to be exact.
Originally from Easley, South Carolina, Carpenter has a bachelor's degree in health sciences from Furman University, less than a half hour from home. So she was admittedly nervous about attending a dental school so far from what she'd known.
But Carpenter has found a second home in ATSU-MOSDOH, leading her to becoming a student ambassador.
"I chose to be a student ambassador because I wanted to be able to share my experience as a MOSDOH student with current applicants," Carpenter said. "I have been able to make Kirksville my home away from home thanks to my sweet classmates and professors. I get excited when I get to share how close my class is and all the highs and lows we have experienced together."
Carpenter, who was selected by ATSU Admissions as a Student Ambassador of the Month, said her favorite thing about being an ambassador is getting to meet new people.
"I love getting to meet applicants from all over with different backgrounds and help them through the application and decision process," Carpenter said. "It is fun to see because just two years ago I was in their shoes."
Carpenter currently works at ATSU's Thompson Campus Center, and also holds positions as a wellness coordinator for the American Student Dental Association, class of 2025 secretary, ATSU-MOSDOH Interview Day coordinator, Still Scholar coordinator, and National Health Service Corps Scholarship. She also plays intramural pickleball and volleyball, enjoys visiting nearby Thousand Hills State Park, and trying out as many new restaurants and coffee shops as she can while hanging out with friends. 
After graduation, Carpenter plans to work in a community health center.
"My goal is to get as many hands-on experiences as possible with a variety of cases before I graduate," Carpenter said. "Upon graduation, I will go on to work in a community health center and potentially specialize. ATSU is helping me achieve my goals by allowing third and fourth- year students to work on many complex cases. Furthermore, we get to go on a variety of rotations through many specialties, so we can best explore all career paths within the field of dentistry."