Dean Danielsen receives Patron of the Profession award
Posted: August 6, 2012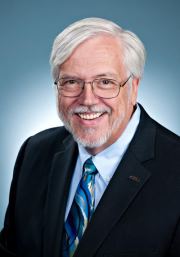 Randy Danielsen, PhD, PA-C, DFAAPA, dean and emeritus professor,  ASHS,  was awarded the prestigious "Patron of the Profession" award for "unwavering dedication and service to the physician assistant profession" by the University of Utah PA program, a division of the Department of Family & Preventive Medicine, School of Medicine. This award has only been given six times previously in the 40-year history of the PA program and has been given to the inaugural director of the PA program, William Wilson PhD; C. Hilmon Castle MD, inaugural medical director of the PA Program; and Richard Smith MD, founder of the MEDEX concept.
"I am honored to have received this award from my alma mater, not only because of its acknowledgement of service to the PA profession but also because of the previous awardees — all of whom are major leaders of the profession," said Dr. Danielsen.
The award was presented to Dr. Danielsen by Dr. Don Pedersen, past division chief of the PA program. Dr. Danielsen, an alumnus of the University of Utah PA program, was also the commencement speaker for class of 2012 University of Utah PA program.